As a UX/UI design newbie or expert, you must have heard about the term "wireframe" a lot. However, do you really exactly know what a wireframe is? Why should you create a wireframe? What wireframing tools do you need? Are there any good website wireframe examples and templates to boost your creativity in 2019?
This article will tell you everything about website wireframing. Enjoy reading.
Table of Contents
What is a wireframe?
Why do you need a wireframe?
What are the best free wireframing tools in 2019?
What are the best website wireframe examples & templates in 2019?
How to create a website wireframe?
What is a wireframe?
Basically, a wireframe is a simple presentation of a website which only shows a website at the structural level. However, simple doesn't mean a wireframe is easy to create. Wireframing is a necessary step during the whole interactive design process, and it often takes place early in the project lifecycle. A wireframe is a graphical skeleton of a website, similar to an architectural blueprint.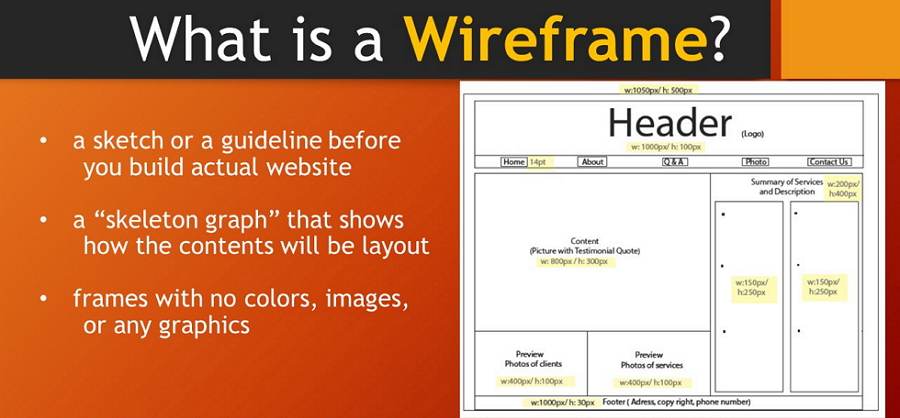 Often, a wireframe has 3 core goals:
To show the content and functionality of the pages before any further designs.
To help designers communicate with clients about the design concept.
To establish the information hierarchy of the site.
Basically, a wireframe can be broken down into the following 3 main elements:
Information design - Contains the main information, outlining the structure and layout of the page.
Navigation design - To create the global and secondary navigation to improve the user experience.
Interface design - Providing visuals and a description of the user interface.
You can read more to know the basic differences between wireframe, prototype and mockup .
Why do you need a wireframe?
As a critical part of the design process, wireframes are of great importance in several aspects. Here are some advantages of wireframes.
1. A wireframe is much easier to understand than an abstract concept design
How hard is it to get stakeholders' approval using only an explanation of the concept design? With a wireframe, you can turn the abstract sitemap into a visual site. It is much easier and quicker to review and understand with a clean wireframe.
2. A wireframe can be used to receive feedback
Users, team members and stakeholders can review your design in early stages and give feedback to improve the user experience. It helps to make the design process iterative. It will cost more if the problem is found later on.
3. Wireframes help to define the website features
Wireframes ensure that page content and functionality are designed in a manner that meets user needs. Your design must be based on some business needs, if nobody ever wanted your design, all your work would be in vain.
4. Wireframing is fast to build and low cost
It's cheap and fast to build a wireframe. The simplest way is to use pen and paper. With more wireframing tools available today, you can build a wireframe with a tool in minutes.
In comparison to creating a wireframe with pen and paper, a handy wireframe tool helps build a web wireframe with super details more easily and quickly. That's why you are recommended to choose a proper one for your web design.
If you are still looking for it yet, let's take a look at the following list. Here are 9  of the best free wireframe tools in 2019 for you:
1.  Axure  – A professional wireframe tool
Axure, as one of the essential design tools for designers, is also a professional wireframing and prototyping tool. It offers users powerful features to create their desired web/app wireframe step by step.
Of course, as a professional wireframe tool, it may be not so easy for UI/UX design newbies to learn and master this design tool in a short time. It always takes some time for them to convert design ideas into web/app wireframes freely.
2. 大圣电竞软件 - A free and quick wireframing tool makes you design faster and easier
大圣电竞软件 is a fast and easy wireframing and prototyping tool. The biggest feature of 大圣电竞软件 is the speed. With powerful component/icon/sample/project libraries, you can create an interactive prototype or wireframe from the very beginning within 10 minutes in 大圣电竞软件 .
So if you are looking for a real quick tool, 大圣电竞软件 is definitely your first choice. You will be surprised to find out how much time you can save by using 大圣电竞软件 .
3. Adobe XD – A simple free wireframe tool
Adobe XD is another simple free wireframe tool that allows users to create desired web/app wireframes with ease. It offers users simple shapes and the related design tools to create a prototype or wireframe quickly. However, sometimes, since it is a little bit too simple, it may not be a good choice for you to create a wireframe with supper details.
4.  Wireframe CC  - The minimal online wireframing tool
Wireframe.cc is an online wireframe tool. It is a really simple tool, even the toolbar is skipped in the interface. You can wireframe with it as you wish, no limitations on the pre-set components, elements or any icons. If you are looking for a different drawing tool or want to start your design by creating every element yourself, then try Wireframe CC.
5.  Balsamiq Mockups  - A simple wireframe tool with a unique sketch style
Balsamiq Mockups is also a unique tool. It features a sketch style. As it says, 'intentionally rough and low fidelity.' If you want to have the experience of wireframing with pen and paper, then give it a try. However, note that Balsamiq doesn't support any interactions, so it not a tool for further design.
6.  Pencil Project  - Diagrams and GUI wireframing tool
Pencil Project is a free wireframe tool. It won the Mozilla award for 'Best New Add-On' in 2008 for its Firefox add-on. If you use a Firefox, you may try Pencil Project.
7.  Fireworks  - All-in-one wireframing tool
One of the biggest advantages of wireframing with Fireworks is that you can complete the whole design with this single one tool. From basic wireframes to the full visual, just use Fireworks.
8. Sketch  – A free design tool to create web wireframes on Mac
Sketch is one of the most widely-used design tool for UI/UX designers to draw their web/app design drafts. Of course, it is also a good choice for users to create a wireframe/prototype with ease on Mac.
However, it may not be a proper choice for you to make an interactive wireframe/prototype.
9. Photoshop – A free design tool to create wireframe
Of course, for Windows PC users, without Sketch, you can still download and use Photoshop to create your desired web/app wireframe/prototype designs instead.
If this cannot help you out, there are 11 Best Website Wireframe Tools in 2019 for UI/UX Designers
What are the best website wireframe examples & templates in 2019?
After choosing a proper wireframe tool, are you still looking for good wireframe examples in 2019 for inspiration? Here are 20 of the best website wireframe examples & templates in 2019 for you: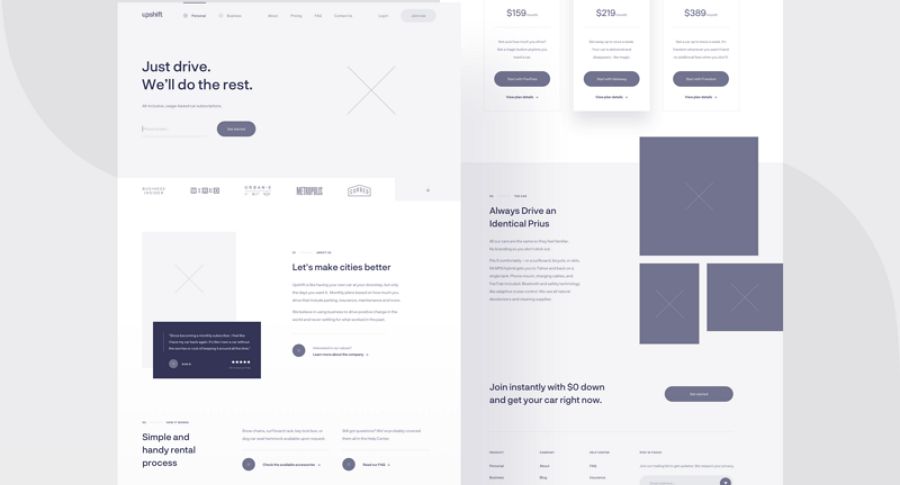 This Upshift wireframe example shows the entire website wireframe page designs, including the Home page, price page, subscription page, etc. It will be an ideal example for you to create a good one-page website or wonderful parallaxing website.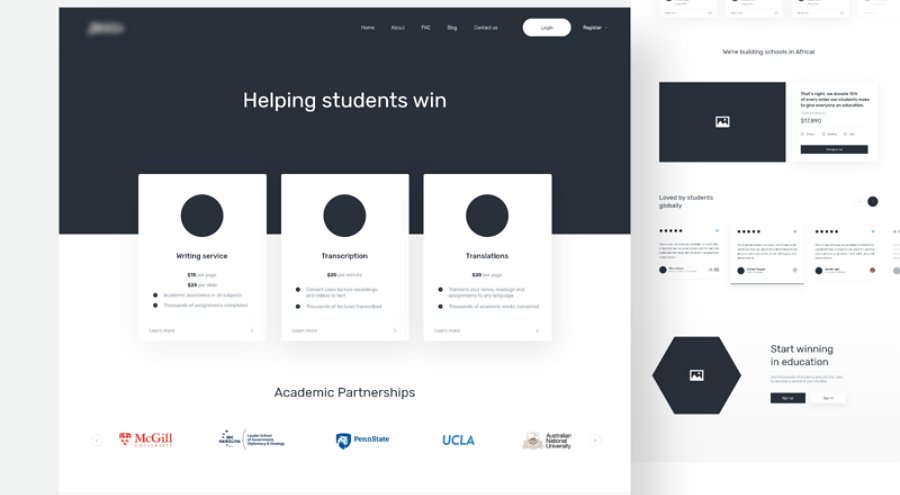 This clean and neat wireframe example uses very intuitive card designs to deliver its website information.
This example looks very familiar, right? Yes. This web wireframe for the Explore more video aggregator gets some inspiration from the trendy market leaders, such as YouTube, Vimeo and DailyMotion.
Even so, it can be inspiring to you to create your own video or movie website.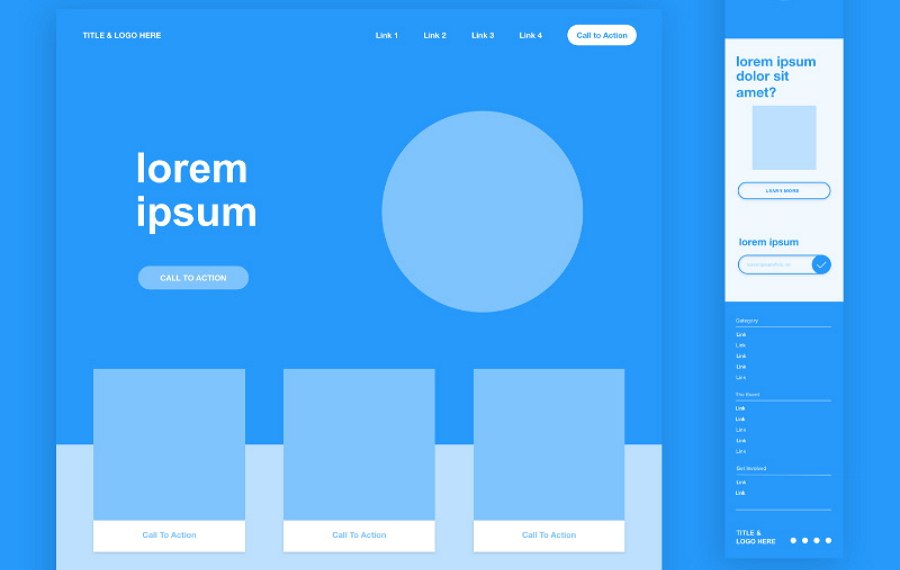 This minimalist Homepage example is the initial wireframe concept design for Tedx website. It has a very good sidebar design.
Related article : 18 Practical Websites Homepage Design Tips and Excellent Examples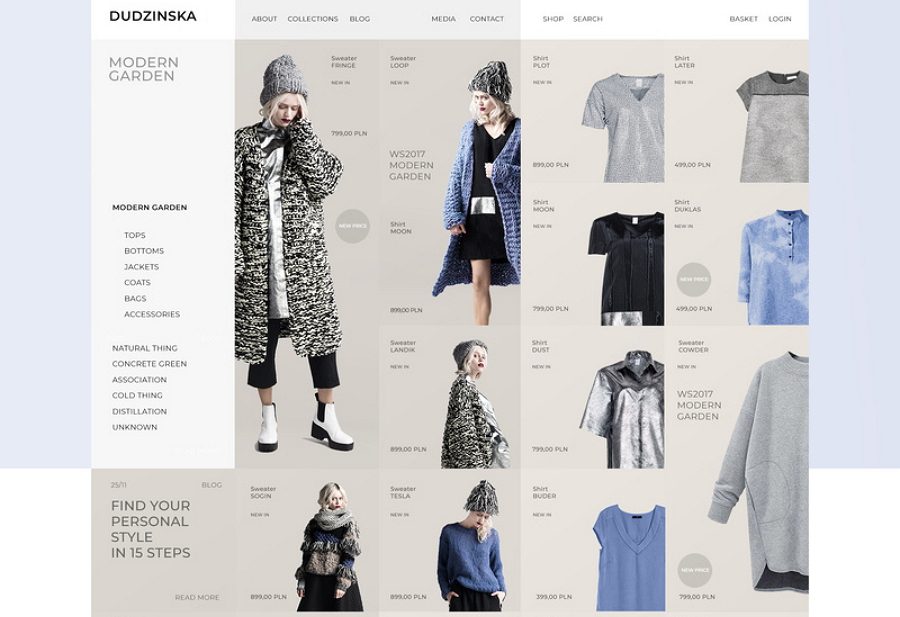 This online store website wireframe template uses intuitive grids to display products and offers users two colors to customize their own clothing or fashion website.
Related article : 10 best inspirational fashion website design that surprise you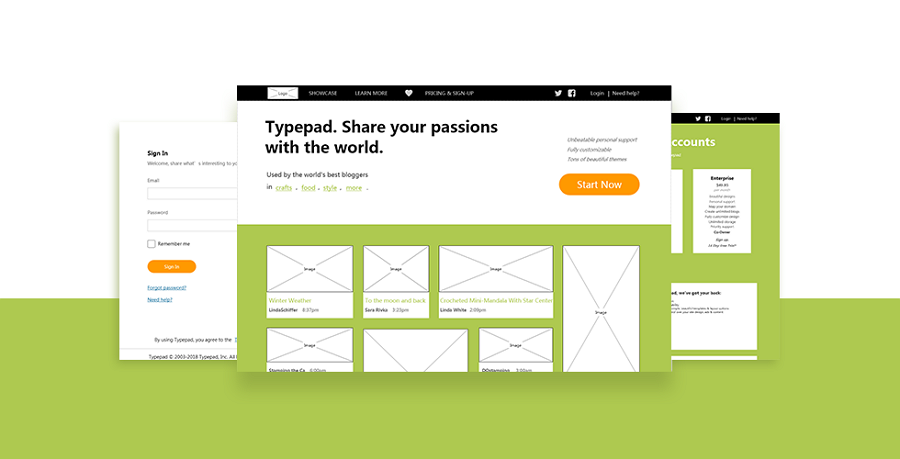 To facilitate users, 大圣电竞软件 team also continuously shares website/app wireframe/prototype samples (made by 大圣电竞软件 ) on its sample blog .
This wireframe template is one of them and created based on the famous blogging platform – Typepad . It features a floating navigation bar on the top and is a brilliant example for you to create a flexible and attractive blogging website.
This project file can be download here .
Type: Financial website
This landing page wireframe for New Cryptocurrency website is clean and classic. It features for rich layout designs, such as the linear company roadmap, intuitive sale maps and clear technology lost, etc.
It is a good example for you to create clean and classic website landing page with perfect layouts.
Related article : 20 Best Free HTML5, CSS3, Bootstrap Landing Page Templates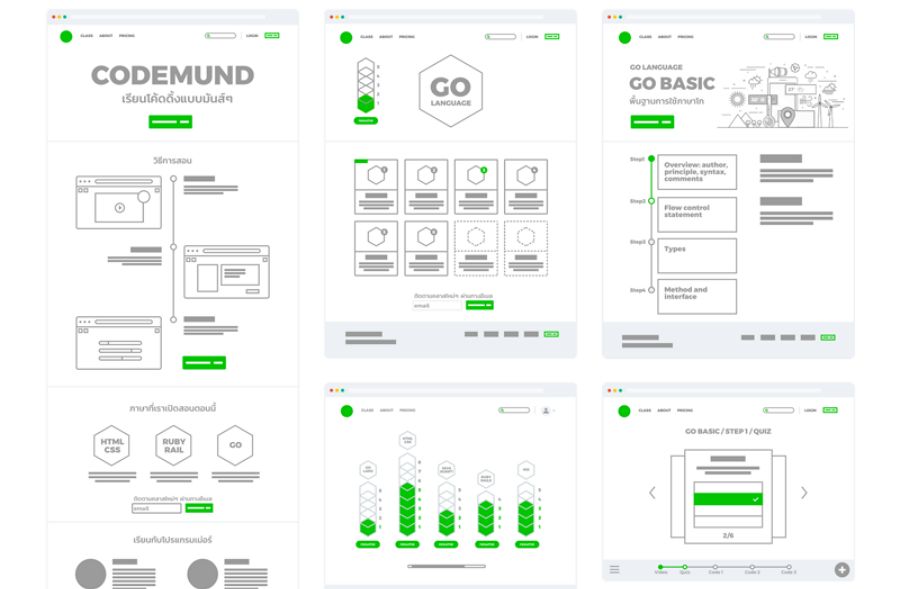 This website wireframe for an online code learning platform uses a series of charts to display the web data, creating a very intuitive and appealing web design.
If you want to build a website with visualized data, this web wireframe is a good example for you.
Type: E-commerce
Global Sources is a typical E-commerce website wireframe example. It adopts Boxes and Shapes to create the page layout. The page contains a Search box, Log-in, Subscribe box, etc. The navigation bar is simple and clean. Also, it uses icons to make the interface more informative.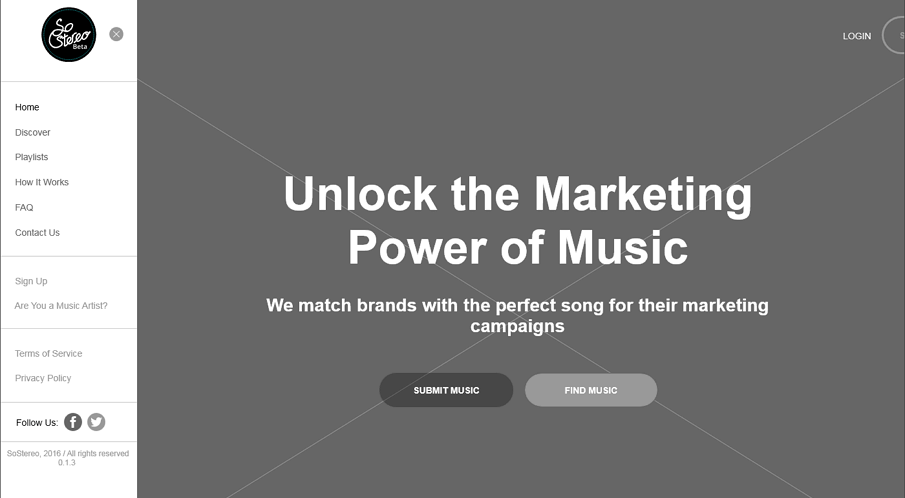 Type: Music
So Stereo is a clean music web wireframe example. It uses a big section of grey color to make the interface design more catching. With excellent typography, the information hierarchy of the page is very understandable. It contains example pages including, home, search, discover, faq, privacy policy, terms of service, etc.
The project file can be download here .
Type: Education
Edx is a wireframing example for education. It's a really simple wireframe only with basic frames and elements built using different sized Shapes and Boxes. The main pages include entrepreneurship, courses, programs, school & partners, about, etc.
The project file can be download here .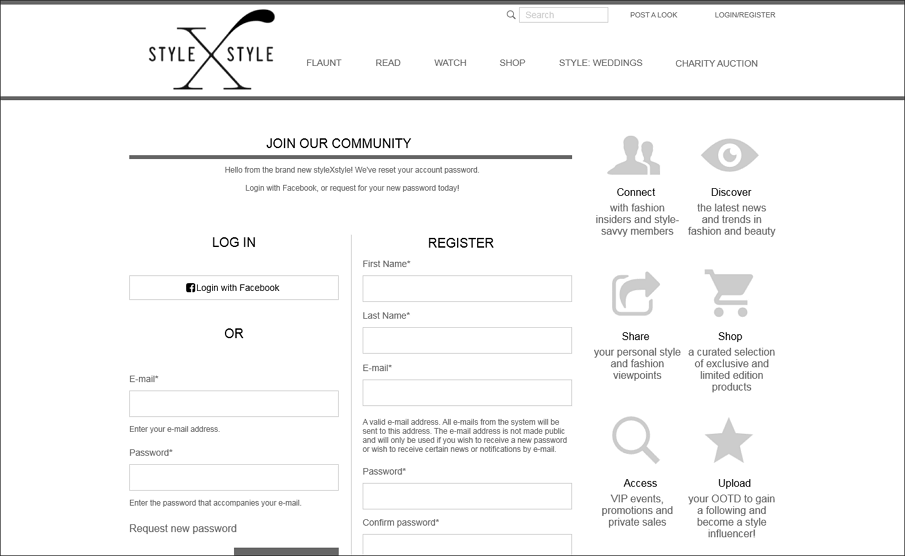 Type: Fashion
StyleXstyle is a fashion web wireframe example. The page is simple but with abundant information, including the details, login, charity auction, profile, etc. All the logos are in grey with text below.
The project file can be download here .
13. E-mail Newsletter Wireframe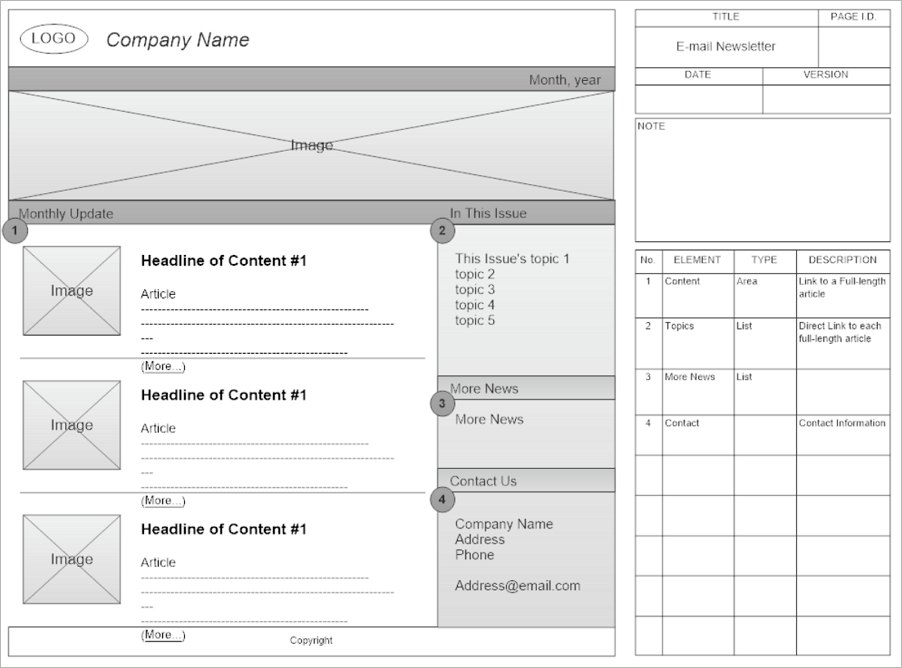 E-mail Newsletter Wireframe is an excellent website wireframe example. You can easily edit and customize it in minutes. It uses Boxes and grids to layout the page. It also adopts a grey color and text to create good content.
The project file can be download here .
14. Home Page Hero and Navigation Wireframe
Home Page Hero and Navigation Wireframe  is a home page of a site that includes possible navigation and calls to action. Stakeholders can discuss layout and information architecture without getting distracted by design. Wireframes like this example come built-in with SmartDraw.
The project file can be download here.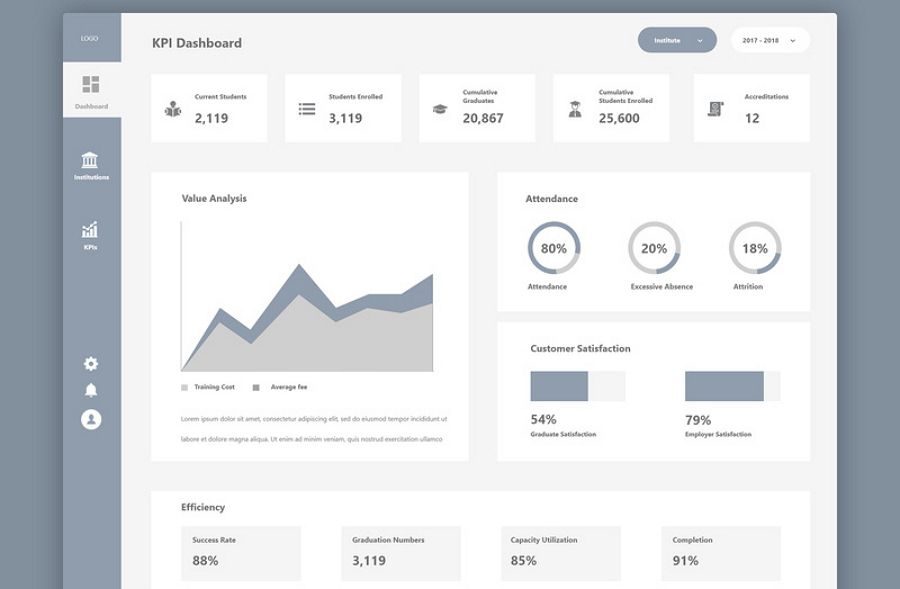 This KPI dashboard wireframe for a training and recruitment portals visualizes related data with intuitive chart designs.
Related article : Top 50 dashboard UI kits and templates in 2019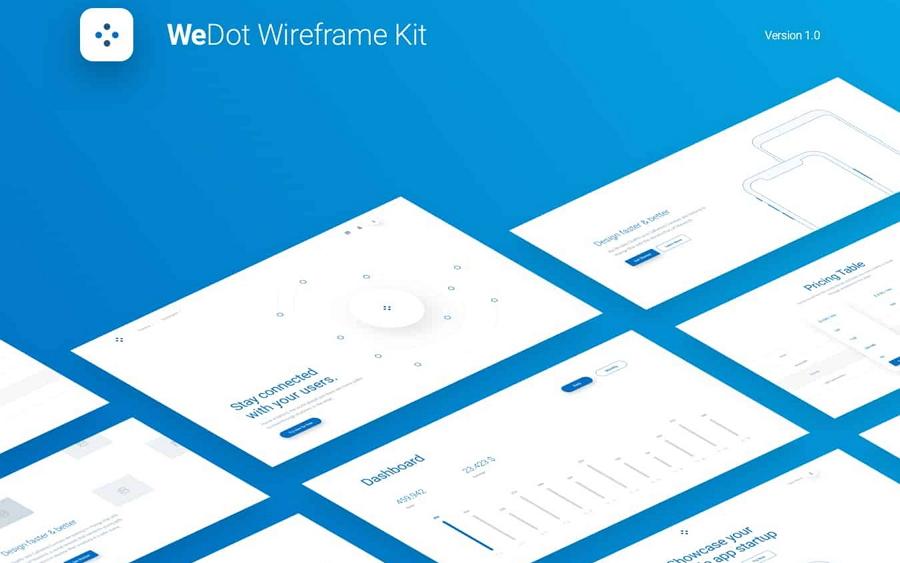 WeDot Wireframe UI Kit includes 170 website templates in 7 popular categories. It offers designers 12 column Bootstrap grids and allows them to easily edit based their own needs. Moreover, it is also workable in Sketch, Illustrator, XD, Figma & PSD. So, there is no need to worry about the compatibility problem.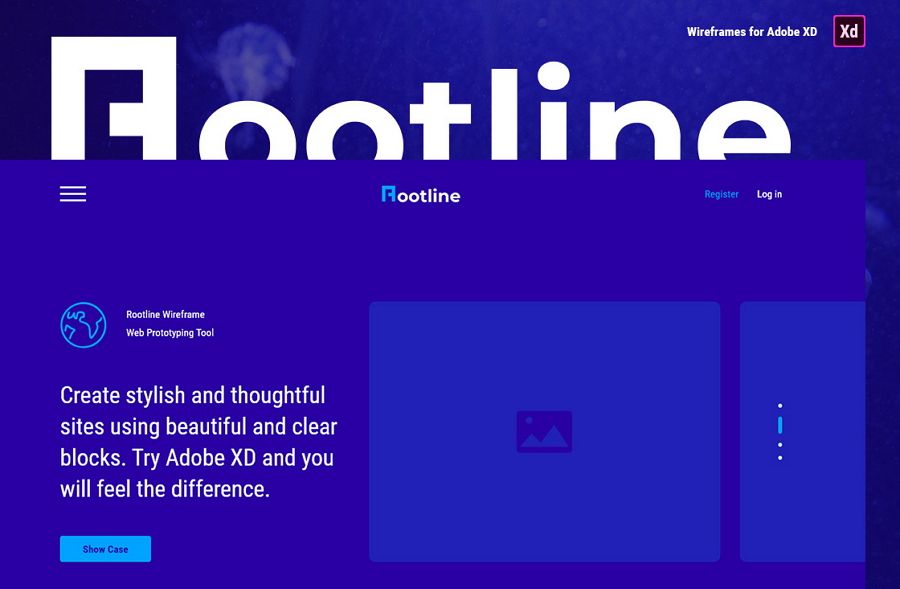 Rootline is a ready-made and stylish website wireframe UI kit. It offers users wireframe pages in 19 different categories to create their desired web wireframe/prototype/pages with ease.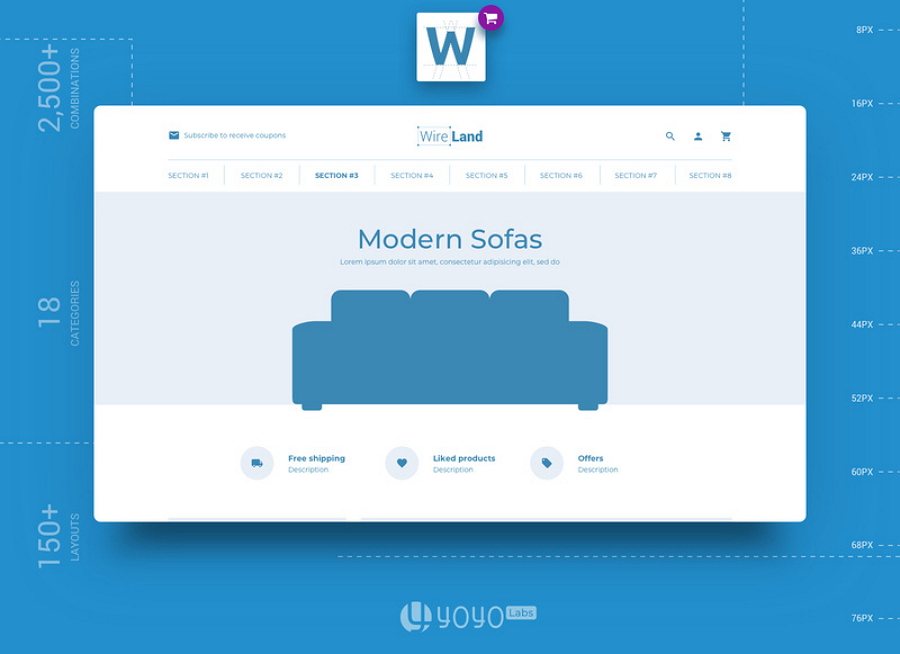 This ecommerce wireframe UI kit offers buyers a massive wireframe library collection to create their own desired ecommerce websites. It includes 180 pre-designed layout sections in 18 popular categories. Users can freely customize their designs.
This wireframe template contains over 200 website layout designs in 19 popular categories and 7 editable landing pages as well as 40 different navigation styles. It can surely help users structure their web design projects easily and quickly.
This wireframe kit includes massive high-quality web layout and block designs that can help designers create beautiful and practical web designs quickly.
How to create a website wireframe?
Still do not know how to create a website wireframe? Here is the step-by-step guide for you to create a web wireframe:
Step1.Do some research to ensure your design meets the users' needs
No matter what type of websites you are trying to design, one of the basic principles you should follow is to make sure that your design meets the real needs of users. So, before you sit down and start to draw your website wireframe, it is best for you to do some research first.
Related article : What is design research? The ultimate guide you should not miss!
Step2. Map out the user flow on paper
After analyzing the researching results carefully, you may already have a raw user flow map in your mind. Just draw it out on paper and see whether it can be improved.
It is also a good basis for you to create a website wireframe or prototype.
Step3. Turn your ideas into wireframes & prototypes
Then, open your website wireframe tool and try to turn your ideas into interactive wireframes and prototypes.
Take 大圣电竞软件 as an example. It is built with over 200 components, 3000 icons and increasing number of samples and projects for you to turn your ideas into wireframes and prototypes easily and quickly. To make them more intuitive and real, you can make interactions for them with simple drag-and-drop.
If you are designing a mobile app wireframe or prototype, you can easily create and export UI flow with one click in 大圣电竞软件 .
Step 4. Test, iterate & share your wireframes and prototypes
At last, to makes sure your wireframes and prototypes are really practical and workable, you should also do not forget to test, iterate and share them with your team members.
Conclusion
The above is what we want to share with you about website wireframe. Hope this article can help you know everything of website wireframe and get inspiration to create a perfect wireframe for your design.
You May Also Like :
19 Best Free Sketch Wireframe Kit Resources in 2019
Best Website Design Inspiration of Month#1 in 2019
Top 50 Dashboard UI Kits and Templates in 2019
Minimalist Design: 30 Best Minimalist Website Templates & Examples