No matter whether you are a UX design beginner or expert, here are 15 the most critical UX design skills and responsibilities you need to take into account to become an outstanding UX designer and land a perfect UX design job:
What is UX design and how is it different from other design fields?
User experience is all about the user's impressions and feelings. And UX design is the art and science of providing a better user experience by improving the usability, accessibility, and desirability of a web/app.
In other words, compared to UI design, which focuses more on visual design, UX design focuses more on providing users a more pleasant experience while using a product.
R elated article : A Full Guide on the Differences Between UI and UX Design
Well, in comparison to interaction design, which focuses on human-computer interactions, UX design aims to offer a much easier and more enjoyable user flow for users.
R elated article : What Is the Difference Between User Experience And Interaction Design?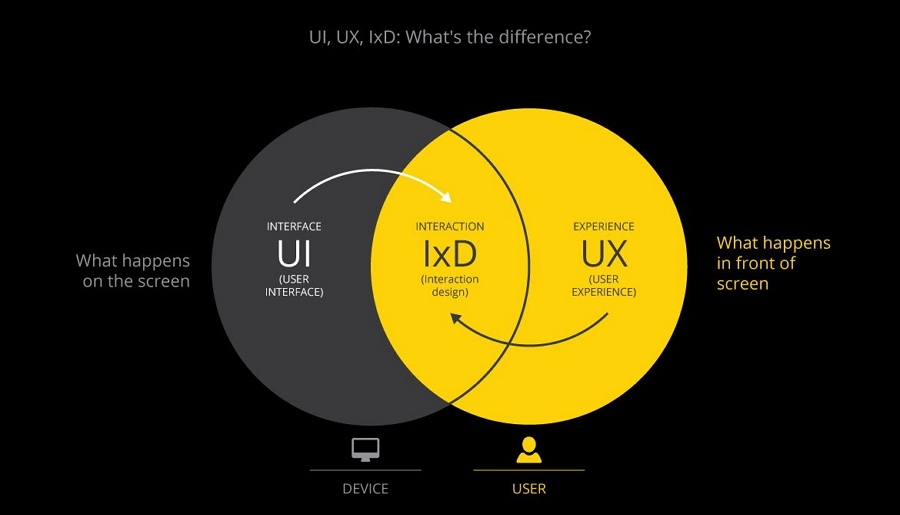 What does a UX designer do?
1) Communicate with potential or real users to understand their goals and expectations
2) Take part in user research and analyze user's lifestyle, habits and emotions
3) Conduct usability testing
4) Prototyping
5) Create personas and scenario of interaction
6) Analyze functional product requirements
7) Analyze user feedback
8) Help with content development
9) Conduct competitors research and analysis
Overall, the responsibility of a UX designer is to provide a satisfying and enjoyable product experience for the end-user.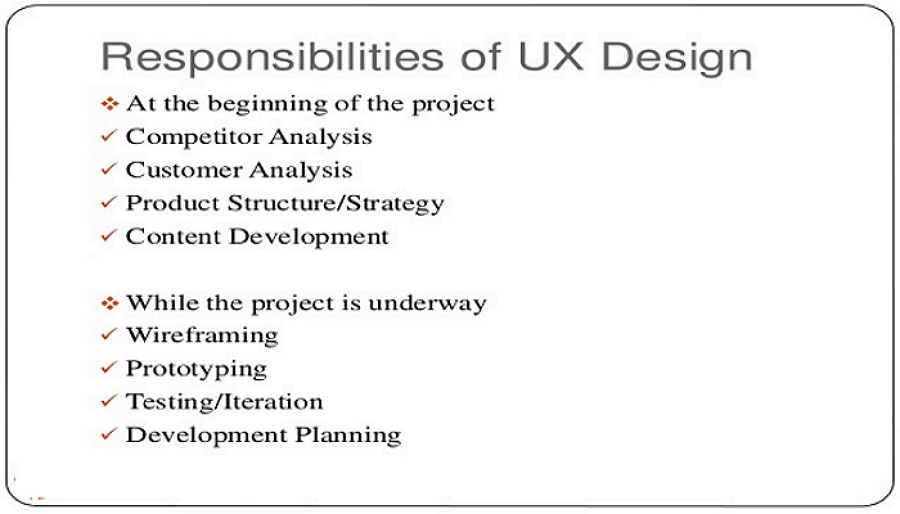 What skills do you need to become a great UX designer?
Most  important  soft UX design skills :
1. Communication skill - convey needs and design ideas with ease
Communication is the most important for designers.
At the very early stage of web/app design, you need to communicate with users, stakeholders and team members. Excellent communication skills can streamline collaboration with different groups of people.
Even after your design is approved and will publish to the market, you still should communicate with real users and other product team members to keep your product updated.
Overall, mastering basic communication skills will make your work more efficient.
2. User-centered design - view products through users' eyes
As we've mentioned above, the responsibility of UX designers is to provide a satisfying and enjoyable product experience for the end-user. The best way to achieve this goal is to stand by users, think and design from the users' perspective.
For example, while designing your web/app, imagine that if you are the actual user of this product and ask:
What goals do you want to achieve by using this product?
What do you like and dislike about it?
What do you want to change?
With these questions in mind, you can easily build a product that can delight users and bring more positive emotions in the process of interaction.
In short, the ability to understand the real user needs will help you and your team create better products.
3. Collaboration and organization skill - collaborate and manage projects
This is a must-have skill for almost every job. But when it comes to UX design, it plays a crucial role.
To build a perfect product, UX designers always need to collaborate with other designers, developers, product managers and even clients from the very beginning of the design process.
Moreover, if you want to become a design lead, the ability to organize and manage team members and projects will give you a competitive advantage over other candidates.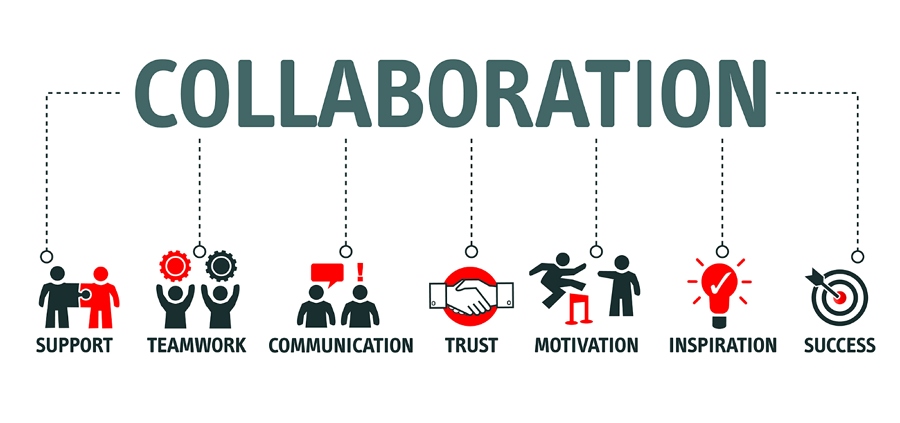 4. Curiosity and imagination - think, explore and learn
Curiosity and imagination drives designers to think, explore and learn more about the world.
For example, when designing a progress bar, most designers use an animated object paired with a number to present the loading progress.
However, great UX designers will look for non-conventional solutions such as adding a slowly moving turtle or a rapidly soaring rocket.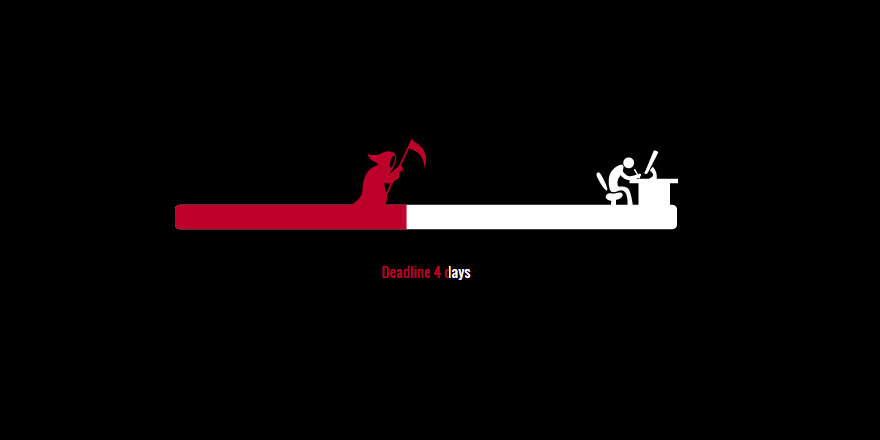 Designers powered by curiosity and imagination will always find ways to create an attractive design for their users.
So, it is always necessary for you to learn, think, explore and try more while designing a product.
5. Collect, analyze and summarize feedback
The feedback from users, clients, designers and stakeholders helps create and improve both UI and UX design of a product. Good UX designers can collect, analyze and summarize feedback.
After sharing the soft UX design skills, let's discuss more hard/technical UX design skills:
Most important technical UX design skills :
6. Research and analysis- understand your users and their needs
At a very early stage, even before starting designing a web/app, UX designers should conduct user research to know their target audience.
To clearly understand your users and their real needs, you need to plan, conduct user research sessions, and analyze their results.
Related article : What Is User Research? Why We Need It in UX Design?
7. Wireframing and prototyping - visualize your design ideas
The ability to wireframe and prototype design ideas is another important skill that any UX designer should master.
Good wireframes and prototypes always help present your design ideas and communicate & collaborate with other product team members.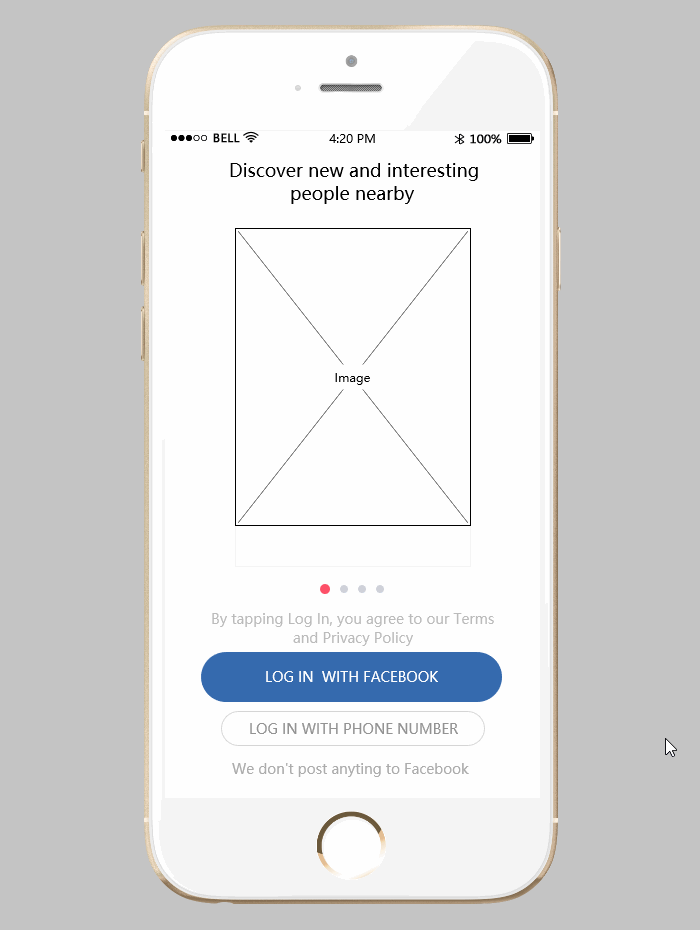 An interactive and functional prototype helps save thousands of worlds while communicating and collaborating with your product team members.
To save time and energy, UX designers can use a handy wireframing and prototyping tool instead of creating wireframes and prototypes manually with pens and papers.
8. Coding skills – broaden your horizons
Coding skills are optional for UX designers, but if you have a basic understanding of the developers' work, it becomes much easier for you to communicate and handoff your design solutions.
Solid coding skills will help you consider the feasibility of your design and create much better solutions.
9. User psychology - master basic psychology principles in UX design
UX designers should learn human psychology and master some basic cognitive principles of user interaction. Following fundamental principles will help designers to design products from the user's perspective:
Don't make users think.  People always prefer having familiar interfaces because they know how to use them. So, it's always better to use simple language while designing a product.
Give users fewer options.  People suffer from making choices every day. The menu with too many options will make them feel really bad. So, it is better to give users as few options as possible but without sacrificing the core value of your product.
In short, the ability to know what users think and how they feel can help you become a better UX designer.
Related article : A Beginner's Guide to Psychology Principles in UX Design
10. Visual design skills – visualize design and data
UX designers should be able to demonstrate their designs clearly. You should know how to visualize your design ideas with different visual attributes, including colors, typography, icons, images.
On the other hand, you should learn how to visualize complex data using proper visual charts. Proper motion design can also help improve data visualization.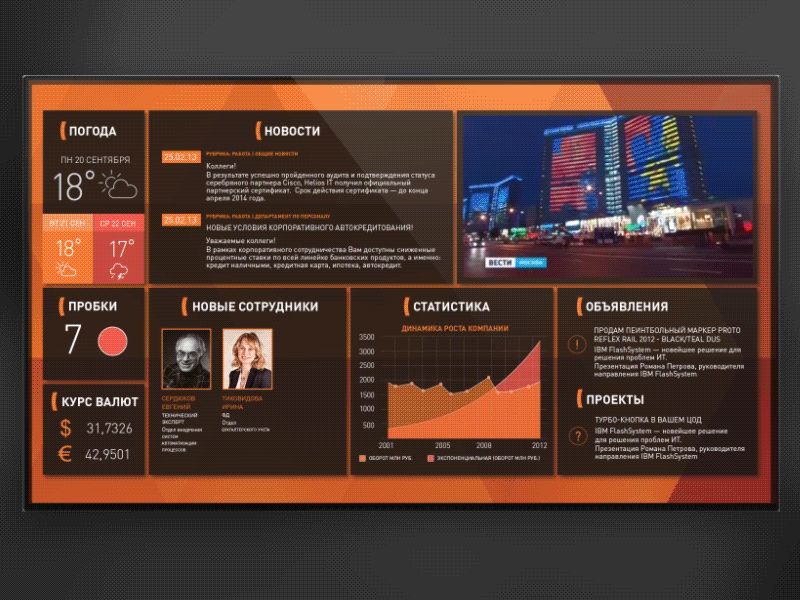 Good dashboard designs  require UX designers to have solid visual design skills.
11. Storytelling skills - tell a story about your website/app
All experienced designers have one thing in common - they are great storytellers. Storytelling is one of the key UX design abilities. If you ask designers to show something that they created, they will talk not only about the final result but about the process they followed when creating the product.
Designers love to describe the problems they faced along the way and the approach they followed to solve them, and how they convinced their team members and stakeholders to accept a particular design direction.
Just like sketching, storytelling is a skill that UX designers practice daily. They not only tell stories but also watch their audience reaction and adjust their style based on the feedback they receive.
Storytelling is, therefore, one of the core UX design skills and important for designing a great application.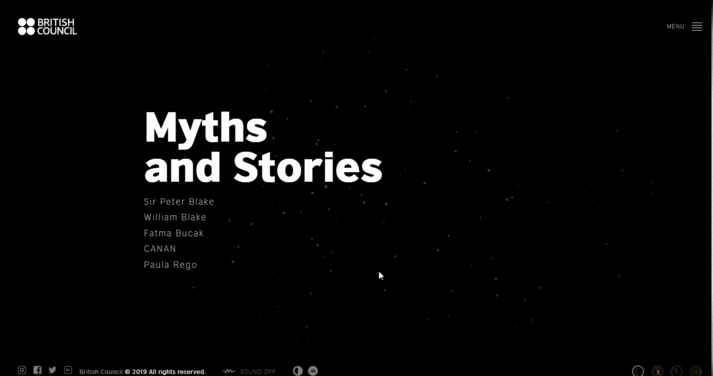 12. Testing and iterating - test and iterate your designs
No product is created in one iteration. To achieve a perfect UX design, you need to test and improve the design continually.
So, the ability to test your design, find potential problems, and solve them promptly is also another essential design skill for UX designers.
13. Keep up with the latest design trends
The latest design trends and best practices can improve your creative process. The ability to grasp and predict the design trends will help you become a better UX designer.
If you review 2019's design trends, you will see that 3D effect designs, colorful illustration designs, voice UIs, storytelling designs, and oversized headline designs are trendy this year. But will voice interface designs and 3D effect designs continue to be popular in the coming 2020? What do you think?
Related article : 8 UI/UX Design Trends for 2019
14. Marketing skill
While designing a website/app, UX designers should always take the business goal into account. To increase conversion, UX designers should learn and master some basic marketing skills.
For example, when you design a CTA button, you can pair enticing microcopy together with a beautiful visual design to motivate users to press the button. In some cases, an animated button design can help you achieve better results.
In short, having solid marketing skills will help you design products that will be equally good for users and businesses.
Related article : 7 Secrets to Write Successful Microcopy for Better UX
15. Master some basic UX design tools
To become a perfect UX designer, apart from some UX design skills, you should also learn and master some basic UX design tools:
大圣电竞软件  – wireframe and prototype your design ideas with ease
大圣电竞软件   is a handy wireframing and prototyping tool that allows you to easily translate your design ideas into tangible wireframes or interactive prototypes, test them with your users, share and iterate your design.
With the powerful components, style/icon/template libraries, rich interaction commands, animation effects, simple drag-and-drop interactions, 大圣电竞软件 helps you visualize your designs in minutes.
大圣电竞软件 team collaboration and management features also help designers gather feedback, share and iterate design solutions.
Also, you can create and export your UI flows with one click in 大圣电竞软件 .
Watch a tutorial video : https://help.mockplus.com/p/209
大圣电竞软件 Cloud  – collaborate and handoff designs with ease
大圣电竞软件 Cloud is an effective design collaboration and handoff tool that allows designers, developers and product managers to prototype, comment, test and handoff designs online.
Many of Cloud's new features are worth trying, including the flexible workflow , auto and manual specs , design version comparison and more. Watch tutorial video : https://help.mockplus.com/p/318
How to Improve your UX design skills?
After introducing the basic UX design skills, we want to share a few simple tips summarized by UX design experts:
1. Take online UX design courses
Online UX design courses can guide you to learn everything systematically. They are good choices for you to lay a solid foundation. For example:
Lynda

. This website offers more than 4000 courses in business, technology and skills, including the UX design courses. Everyone who signup to Lynda can get a 30-day free trial.

Udemy

. This website offers special UX design courses at different prices. Every course comes with a 30-day money-back guarantee. You can sign up and choose the most suitable one with ease.

Coursera

. This website offers many UX design courses. You can choose the course according to your current professional level. Please note that some of the courses require prepayment.
Related article : 30 Best Online Course Websites to Learn UI/UX (Updated)
2. Read UX design books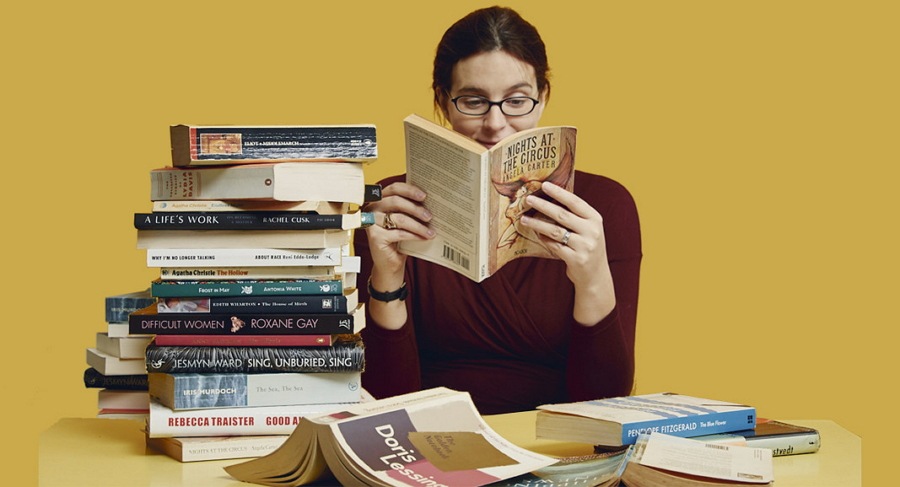 Here is a collection of UX design books that will help you learn UX design basics:
Related article : UX Design Books: What UXers Must Read in 2019?
3. Follow UX design websites, blogs and experts
Follow UX design websites and blogs , such as UX Magazine, UX MYTHS and Smashing Magazine.
While using your social media, also do not forget to find and follow some UX design experts on Twitter and Facebook. The ideas they share will help you become a better designer.
4. Practice and improve your UX design skills
While learning UX design, you must keep practicing and improving your UX design skills on a daily basis. Remember that learning UX design is a life-time work, and you should always keep learning, practicing, and improving design skills for creating a better design.
Related article : Step by Step Guide to Become a UX Designer with No Experience & Degree
In short, we hope the above introduced UX design skills and tips can help you become a good UX designer and find your desired UX design position easily.
FAQ:
1). What is a UX designer salary?/Is UX designer a good career?
UX designer is one of the most popular jobs around the world and it has an impressive salary. According to the Glassdoor, the average UX designer salary in the United States is up to $90,697 per year. The senior UX designer get even more money per year.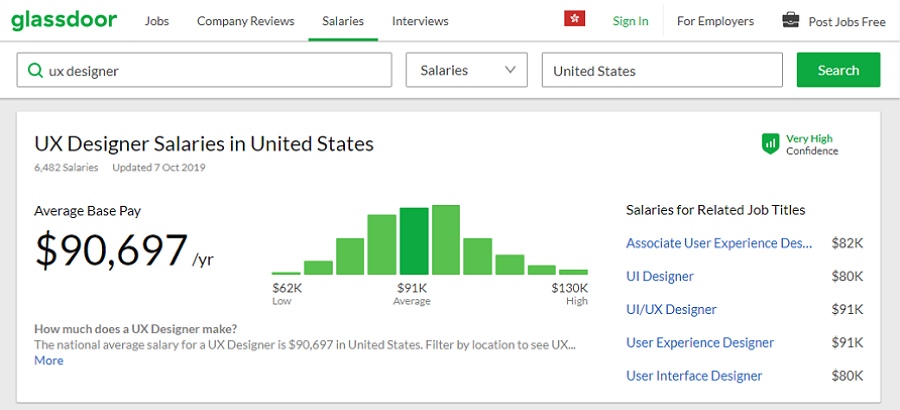 So, in this aspect, UX designer is undoubtedly a good career.
2). How do I get a job at UX?
To land a satisfying UX design job, you need to create an attractive UX design portfolio website and CV. Only when you have a solid portfolio, you can apply for UX designer positions.
In addition, to pass a job interview successfully, you should remember to be ready for UX design interview questions .
3). Do UX Designers need to code?
No. UX designers do not need to code. From the nine key responsibilities of UX designers mentioned above, it's clear that UX designers concentrate more on the design aspect of a web/app, not the coding.
But, if you do have a basic knowledge of web/app development, you can easily stand out from the crowd while hunting a job. Having some basic development skills will help you create more feasible designs and streamline the design-development process.
So, it is not a bad idea to learn how to code.
4). Can UX designers work from home?
Yes. These days, many UX design freelancers choose to work from home. With the help of some effective team collaboration tools , they can easily work with people from all over the world in real-time from the comfort of their couch.
You May Also Like: 
10 Best UX Designer Portfolio Examples for Your Inspiration
How to Find UX Designer Jobs? Best UX Jobs Boards and Tips for You
22 Best Free Color Tools for UI/UX Designers to Create Amazing Web/App