User interface design is an essential part of creating mobile apps.,  UI design defines the way the app looks, how the app works and how users interact with the app. That's why most UX/UI designers spend a lot of time searching various free and paid commercial app UI/UX design templates and examples for inspiration when working on a mobile app project.
Today, we've prepared 30 of the latest mobile app interface design examples and templates to inspire you and learn how to stand out your app with great UI design.
Also, try out our  app design tool to quickly present the design ideas that hit you when browsing these mobile app interface design examples and templates.
1.Mental Health Minimal App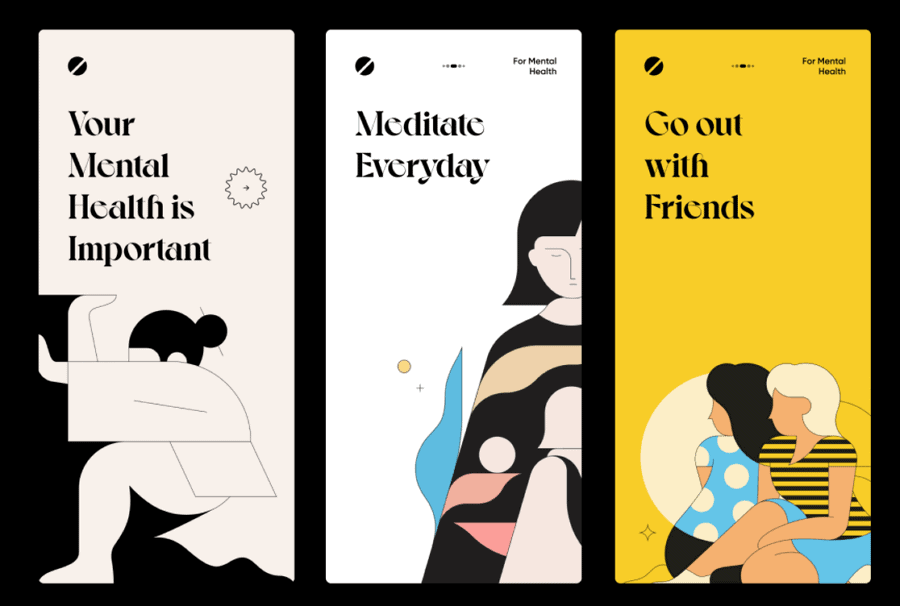 Designer: Saturn Design
About:
Mental health is getting more and more attention, for good reason. This attention from people around the world has created a groundswell in mental health apps.  This minimal mobile app is designed to bring mental health advice and guidance to users, aiming to raise users' awareness about mental health and teach them how to handle stress and others.
It is a good example for designers to learn how to design an app that helps users deal with different mental stresses and other bad things.
Highlights:
Even with a few elements, this minimal mobile app fully uses all elements to show its empathy to users and tries to shorten the mental distance between the one giving the guidance and the users.
For example, it crafts a set of unique artistic illustrations to stand out to users, creating a healing vibe. Its warm and empathetic designs and pastel colors also strengthen that feel visually and mentally. A large amount of white space further highlights illustrations and copy designs.
2.Coffee Maker Mobile App

Designer: Taras Migulko
About:
This coffee maker mobile app is a simple mobile app concept that allows users to order coffee online. It is very useful for designers to learn how to present products and how to persuade users to place an order, and also how to simplify the shopping cart, purchasing, and delivery workflows when working on an online shop or ecommerce app project.
Highlights:
This coffee mobile app showcases all coffee products in a clean and neat grid view and uses modern illustrations to give users a great first impression. Minimal but effective.
3. Furniture Mobile App

Designer: Ghulam Rasool
About:
This mobile app is  a beautiful furniture store app that helps users find and purchase furniture in unique styles. It delivers a great experience with unique illustrations bringing users in and grabbing their attention early on.
Highlights:
While other furniture apps use real photos to showcase all details of their products, this mobile app adopts a special illustration style. All furniture products are presented with simple illustrations, which don't show many furniture details but bring users a different, more unique purchasing experience. This also changes the regular process of buying from stock images but instead lets customers waiting and think about what kind of furniture products you will finally get is already extremely exciting.
4.Online Music Streaming App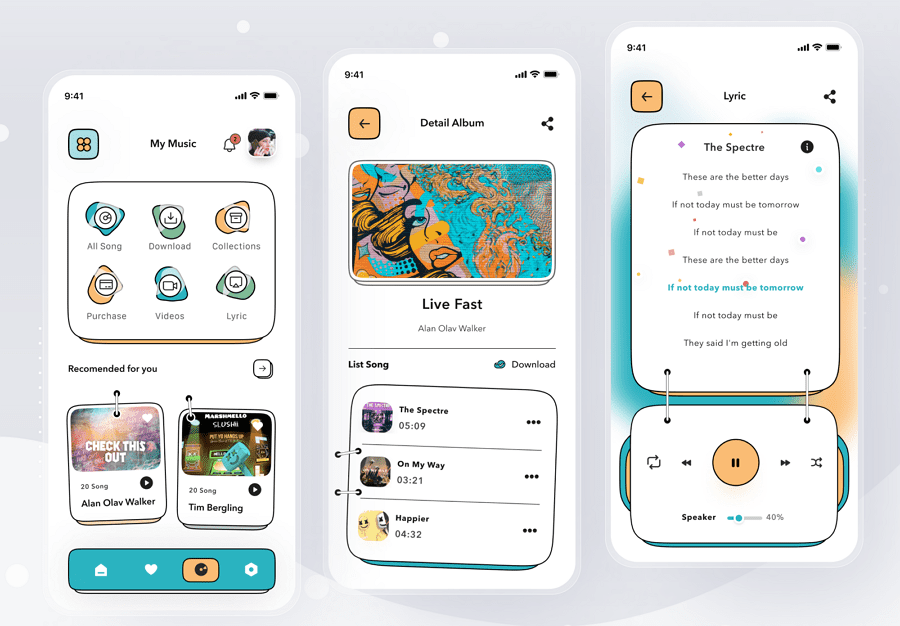 Designer: Sulton handaya
About:
This online music streaming app is a minimal music app that allows users to search for and play their favorite songs, albums, and playlists online. An inspiring design that you should check out to give yourself ideas when you create your own Android or iOS mobile app with a fresh look.
Highlights:
Without rich background textures and colors as other music apps have, this app uses simple bold lines and boxes to divide the interface into different functional sections, helping create an impressive layout that makes it easy for users to scan and read.
Its bright colors highlight the buttons, navigations, and images on the interface, drawing users' attention to the most important content. 
This is a great example of an app that brings a new design but doesn't overcomplicate things.
5.Sky Dream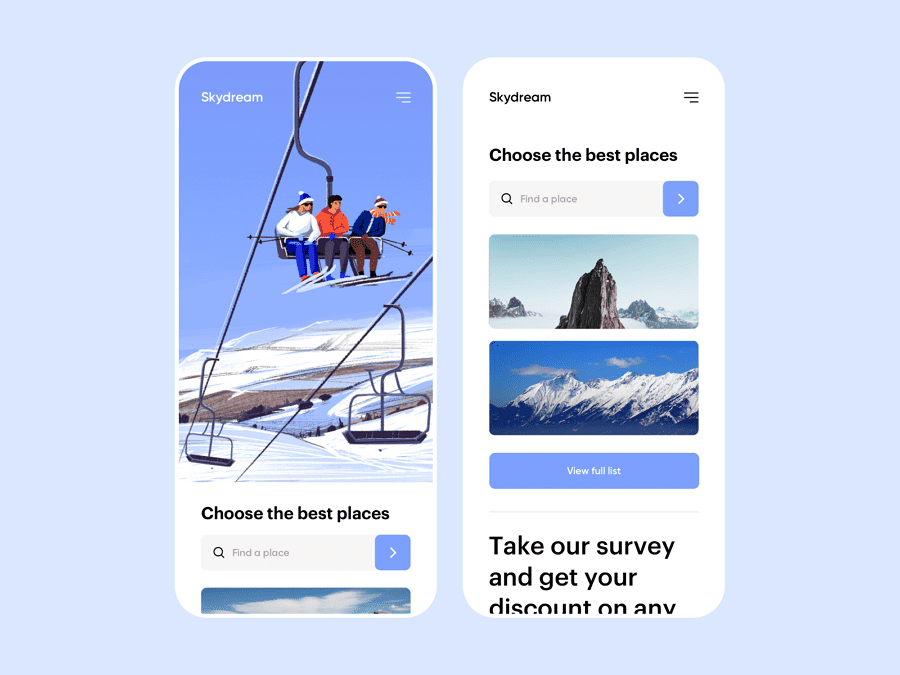 Designer: Outcrowd
Highlights:
Sky Dream is a great app example that you should check out and learn from to combine real-life photos and illustrations together to add interest to your app interfaces. The full-screen travel images and powerful search bars help users find the best traveling places easily. Its responsive design is also another reason why you should go and check it out to see if you can adapt any of these ideas.
6.The Books Reading App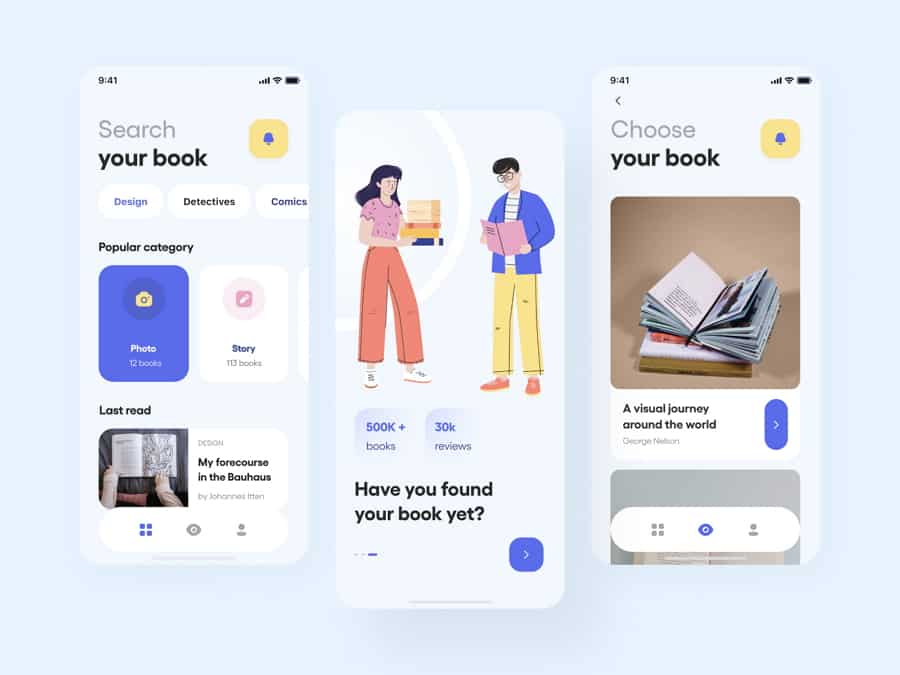 Designer: Taras Migulko
Highlights:
Another example that adds illustrations and photos together. Adding real photos to an illustration environment is a really hot UI trend this year.  This book reading app adopts a playful illustration design style and also combines real-life book images to showcase their book information, creating a distinctive visual experience for users.
7.Stir Mobile App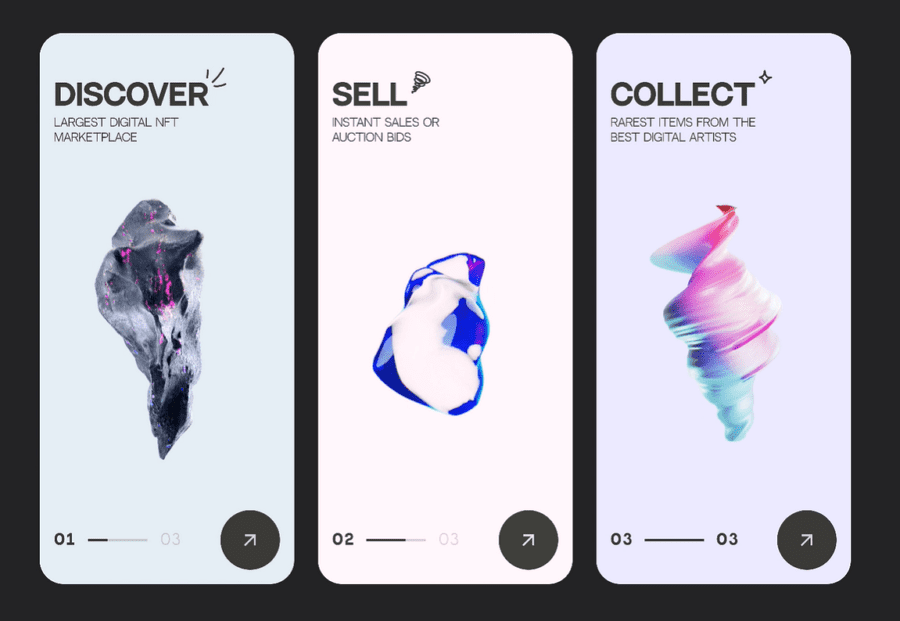 Designer: Taras Migulko
Highlights:
This Stir mobile app concept incorporates a few hot design trends together, bringing users an immersive visual experience, with 3D animations, glowing glass effects, and eye-catching color gradients. The minimal design also effectively makes the interface content stand out. If you are looking for inspiration to create modern or sci-fi app UIs, Stir is a good example that you should learn from.
8.Onboarding Miongi Apps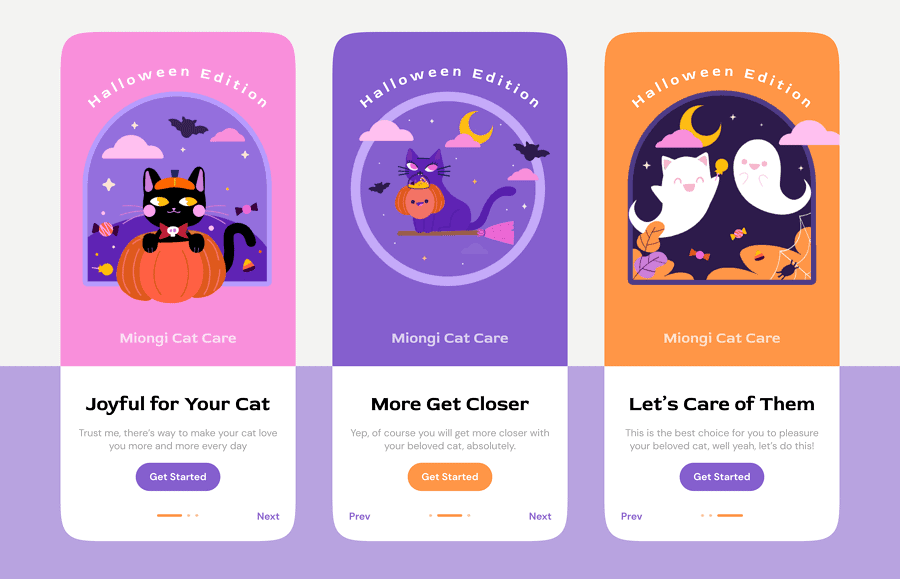 Designer: Taras Migulko
About:
Miongi App is a beautiful pet app design that helps cat lovers look after their cats. This design concept shows the special Halloween edition of the onboarding page, giving a helpful idea of how to design a festival sale for your mobile app.
Highlights:
This app design concept has a brilliant flat design style. Its eye-catching colors and custom illustrations hook users in quickly as soon as they land on the interface.
9. HardClub Crossfit Mobile App Concept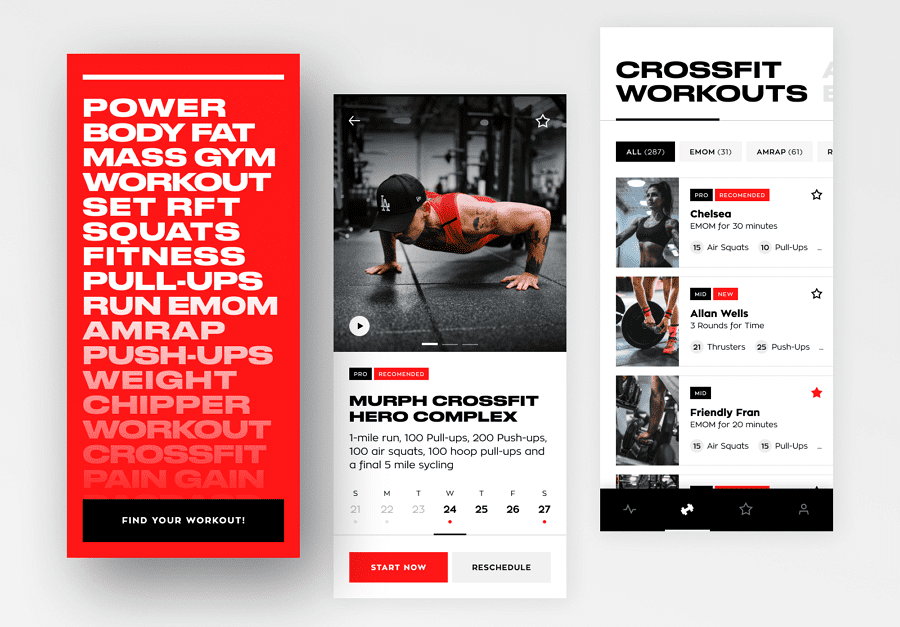 Designer: Kostya Stepanov
Highlights:
Brutalist websites with unusual layouts, big and bold fonts, geeky animations, and other wild elements are very trendy these days and catch the attention of users very quickly. However, it is currently still very rare to see such large elements, unusual layouts, and wide components being used in mobile app design because apps are on a much smaller screen size and space.
But,  this HardClub mobile app is a great try for incorporating brutalism into mobile app interfaces. The vibrant colors and athletic looks deliver an energetic feel, encouraging users to exercise there. A good design example that you should take as a reference if you are designing a gym, club, sports, and fitness mobile app.
10.Health Aassistant App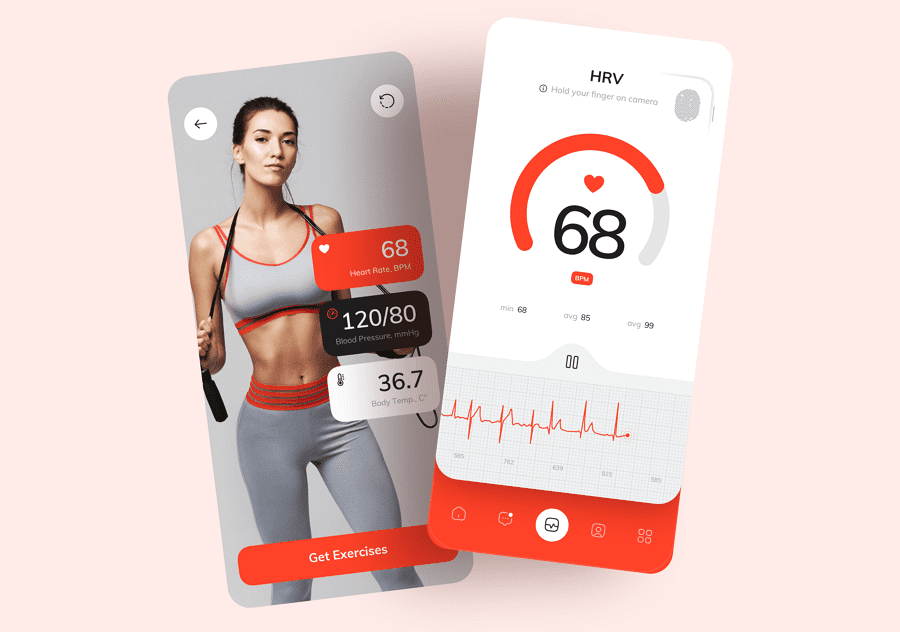 Designer: Bogdan Nikitin
Highlights:
Data speaks louder than words and data visualization is a huge design trend in 2022. This  health assistance mobile app uses intuitive numbers and charts to present user information in a friendly manner, making it easy for users to view and get their important data about their body, even at a glance. This simplifies the user experiences and will finally help app owners get more loyal customers.
11.Hotel Booking App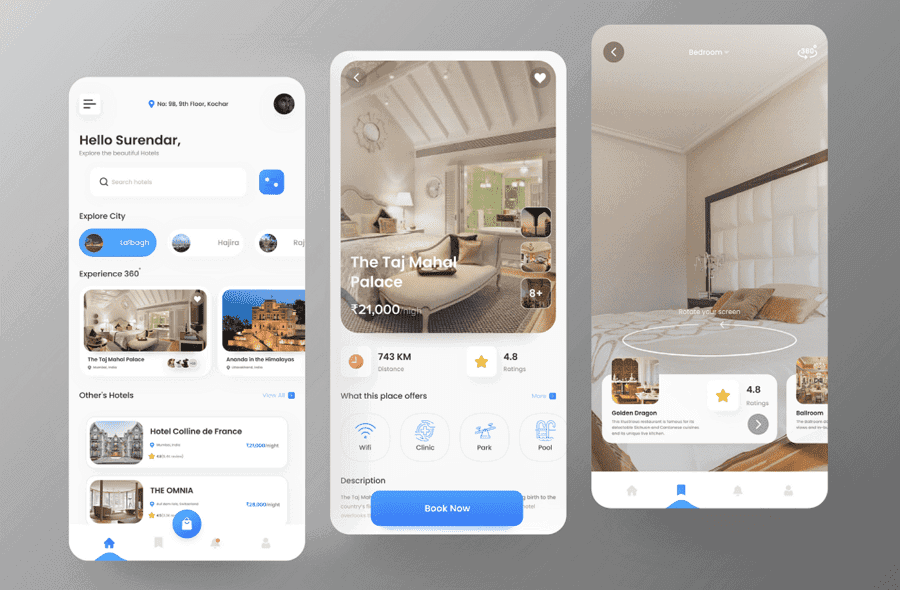 Designer: Surendar V
Highlights:
Most hotel booking apps offer many room and price options, making it a big challenge for designers to present them all without any complications. Well,  this mobile app gives a perfect answer, offering many inspiring ideas to present multiple options that you may also use in your mobile projects.
For example, use clear card UI designs, smart image sliders, and colorful icon menus to present different room options. When entering the room detail page, also offer a 360-degree view to allow users to view the room only by rotating the screen.
12.Library App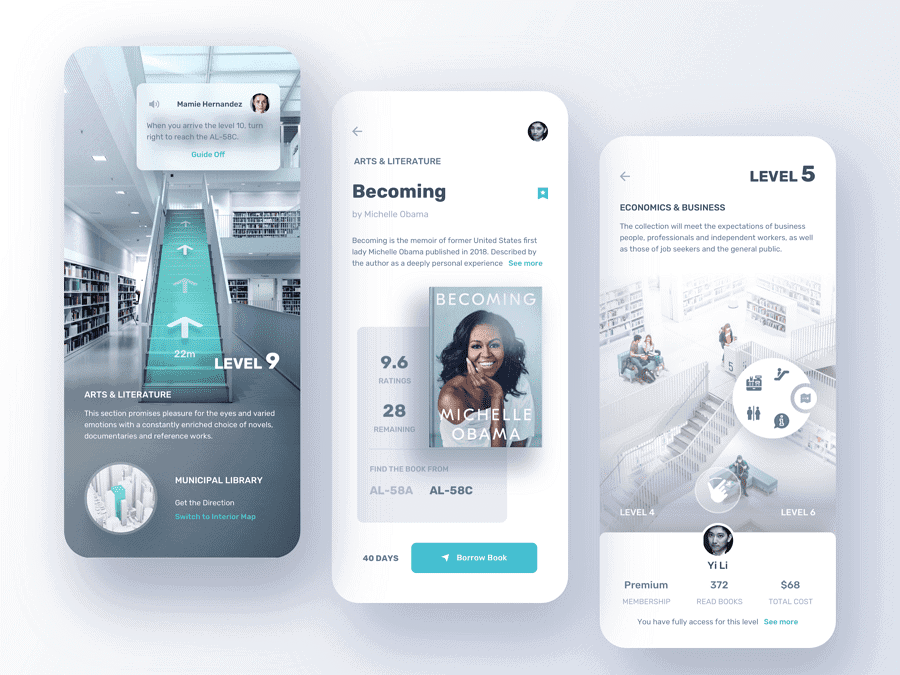 Designer: Yi Li
Highlights:
Mobile apps with VR and AR will surely become commonplace in the near future. Are you planning to create a VR or AR mobile app?  This AR Library App is a good example that you should check out. It provides a VR map and voice guide to help users check book information and find their favorite books just like they are in a real library.
13.Zenbook Mobile App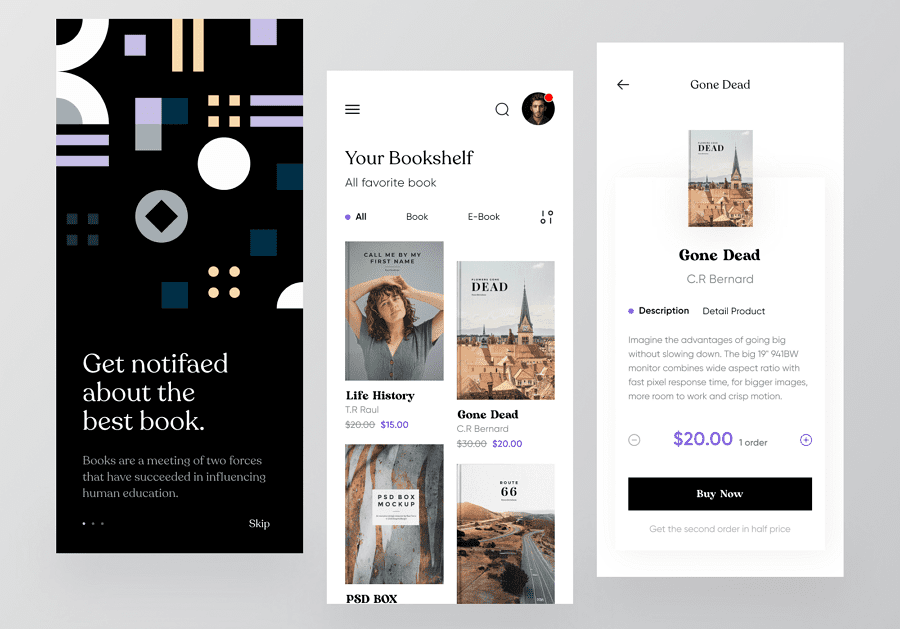 Designer: Rohmad Khoirudin
Highlights:
Zenbook is a clean and minimal online book store app. What makes this app stand out is its perfect use of different shapes to give it an artistic visual look. All of the books are listed in a clear asymmetric grid view, making it easy for users to scan and select the right one quickly. A unique design for a bookstore that attracts customers to come back and purchase time and time again.
14.Streamo Game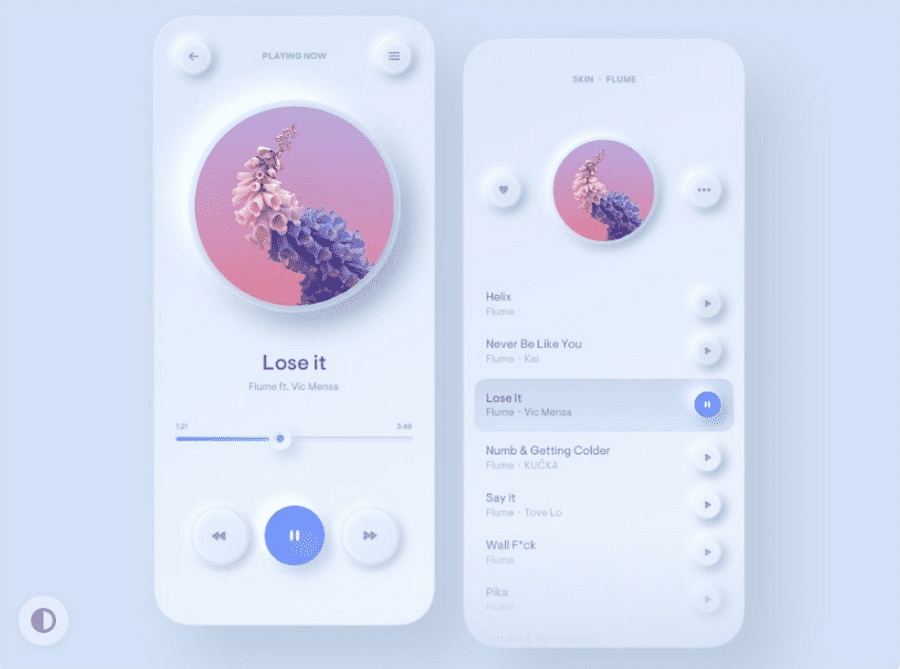 Designer: Farhad Ahmed
Highlights:
Neumorphism design is developed from both skeumorphism and flat design and this mix has become a new rising design trend. If you are also looking for inspiration to create a neumorphism app interface design,  this streamo game is a good example that you should go check and learn from. The simple and extruded plastic look makes it easy to stand out from others.
15.Ilustration Ecommerce App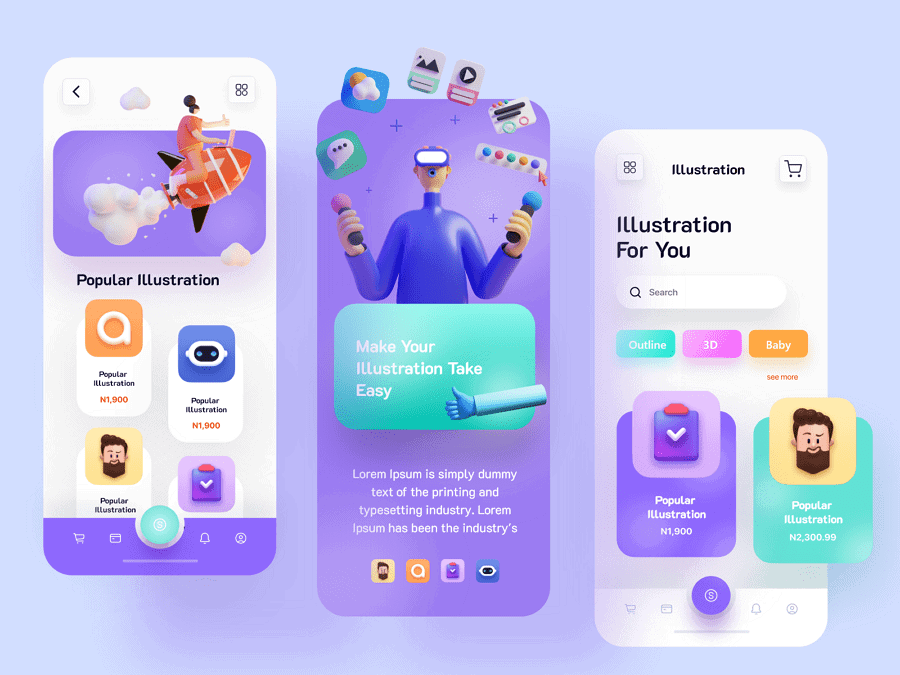 Designer: Masud Rana
Highlights:
This mobile app shares a few screens of an ecommerce app and uses 3D elements to create a unique visual appearance. The bright color schemes also make it easy to be noticed once users enter the app.
16.Ceramic Ecommerce Shop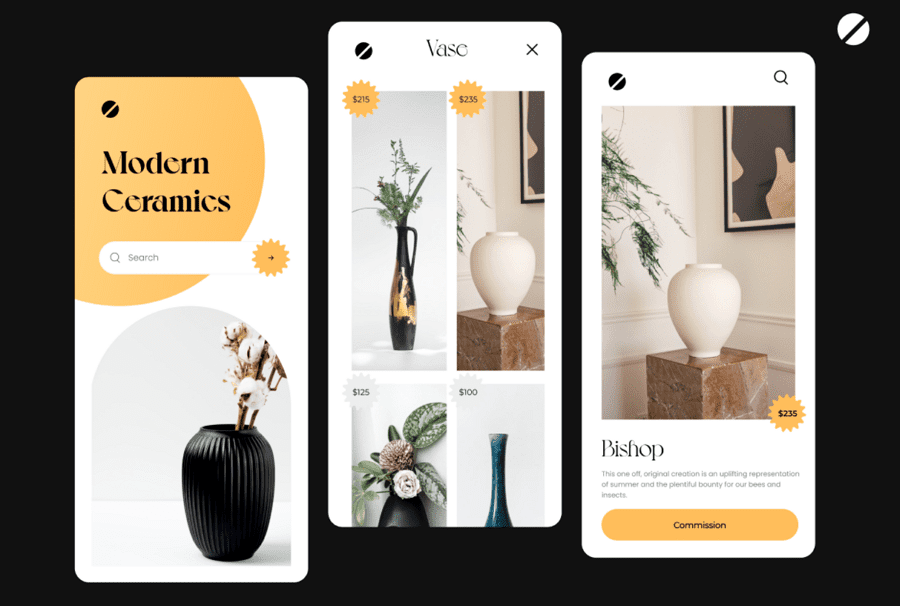 Designer: Saturn Design
Highlights:
This ceramic ecommerce shop app is a very impressive example that shows how to use only photos, buttons, and the like simple elements to create a minimal, elegant, and effective app.
UI/UX design ideas always play a key role in helping designers create an excellent iOS or Android mobile application design works in most cases. And that's also why UX/UI designers often spend much time in searching and looking for a variety of free or commercial UI/UX design templates or examples for inspirations. And today, we have come up with a collection of  latest mobile app interface designs for your inspirations and hope it will really help you somehow:
17. YONO.MP3 mobile app - Music App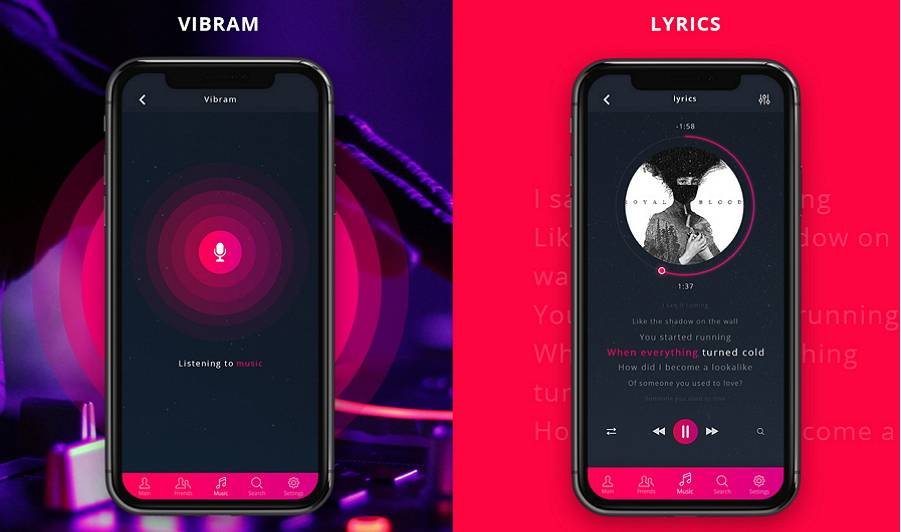 Designers: Anton Shmatko, Green Shark Studio, Pavel Khenkin
About:
YONO.MP3 mobile app is a music app that can not only allow users to listen to music, but also check radio to know word news or other interesting contents. It is a good place to share and discover their favorite songs, albums and artists.
Highlights:
It has really clean and eye-catching interfaces with a perfect color scheme: all interfaces are designed with beautiful color contrasts between red and black, which make it typical and fashionable. And color gradients are also used in some buttons and smaller sections. That makes people focus on these special parts and give users a sense of hierarchy.
The overlapping of photos, buttons and icons also make it beautiful and comfortable for users. So, it is user-centered, beautiful and easy to use.
18. Watering Tracker App - Life app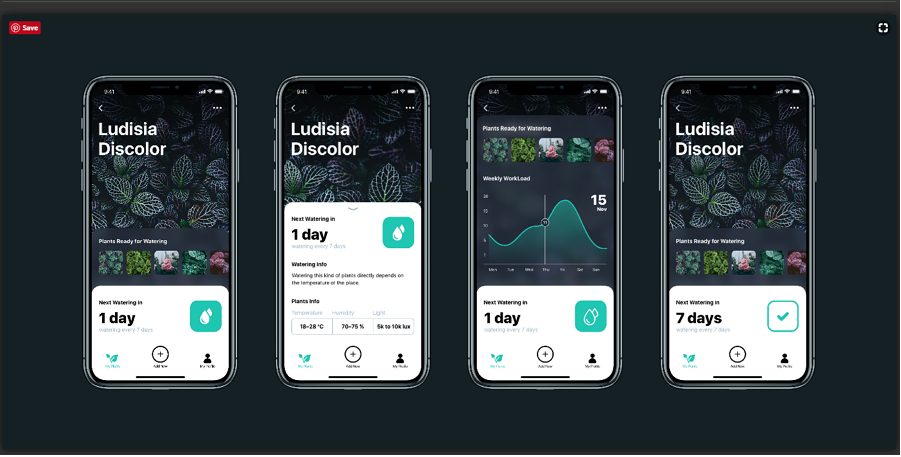 Designer: Tubik
About:
Watering Tracker App is a mobile app that can remind users to water plants and track watering stats for every plant. And it will be really useful for people who love growing plants.
*Highlights:
It is really a great idea to monitor the watering stats of plants and also remind users to water their plants timely. Moreover, its background photos and images of different plants under monitoring are really vivid and fresh to let users have a good mood while using. It also offers many plant details for users to clearly and easily know plant conditions, like humidity, temperature, light and more.
Its color scheme, black background with white and green icons/buttons can not only echo with the main theme of green plant, but also make this app more acceptable for users.
19. Listen - Music App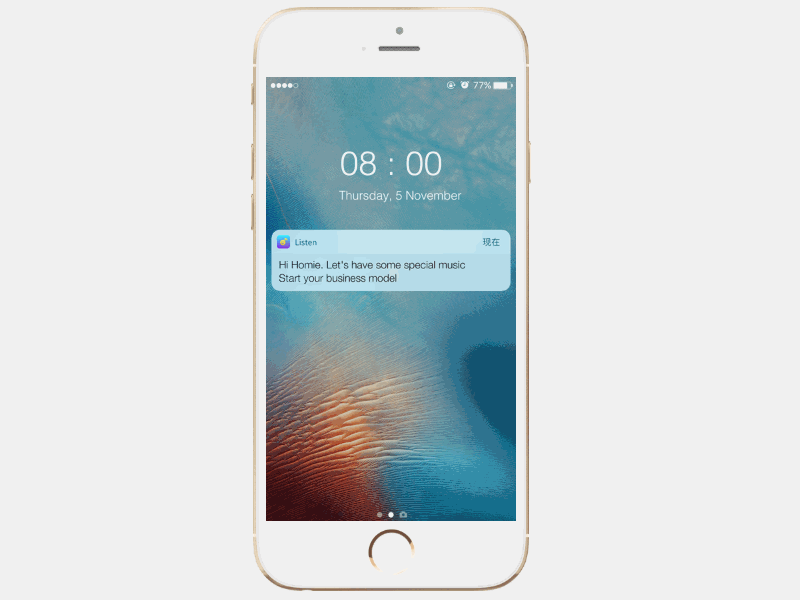 Designers: CD UXT
About:
Listen is also a music app prototype that aims at offering users unique and pleasant listening experiences even when they love different music styles. With clear and clean interfaces, people can easily find and listen to their favorite songs from a variety of music channels or based on different scenes, like New, Radio, Theme, Album, Drive, Wash, Sport, Work and Meet, etc. Its customized interface also allows users to listen to music based on different moods. So, it is a perfect choice when you want to enjoy and lose yourself in the music world.
Highlights:
Its royal blue background colors match perfectly with white words and photos. A set of illustrations showing different scenes and channels are also interesting and beautiful. And all of its icons and buttons with bright shadows are also bold and easy to recognize. With smart and excellent interactions added to different elements there, it can often offer users a much smoother and pleasant experience. So, it is user-friendly and really worth trying.
20. NightOwl Coffee- Coffee ordering app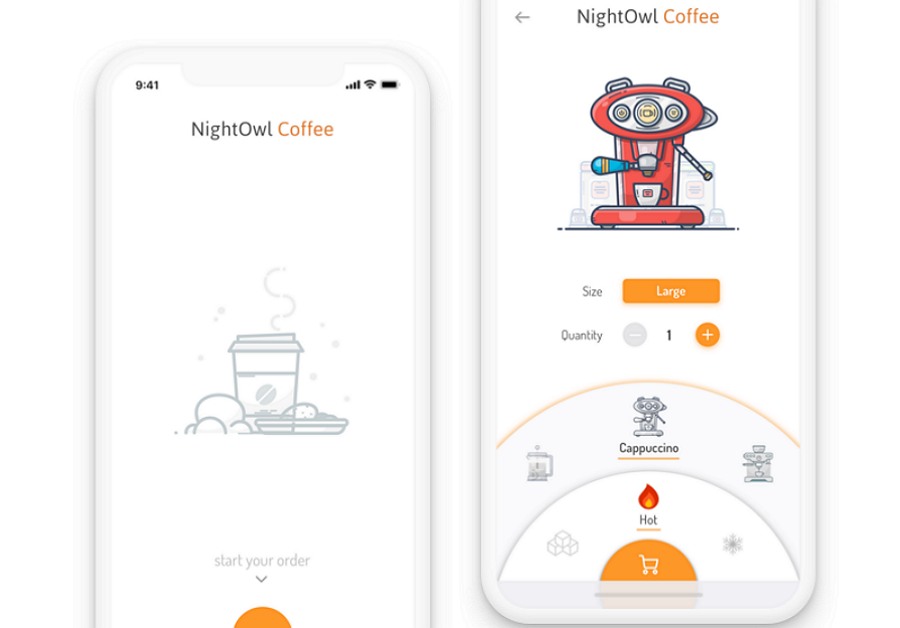 Designer: Queble Solutions
About:
Coffee Ordering App is a mobile app that can help users order and get hot coffees in different sizes and qualities quickly based on their own needs.
*Highlights:
It features a distinctive illustration style. Its cartoon coffee machine with beautiful colors and geometric graphic elements is really cute and beautiful. Its pure background decorated with simple gray graphics and yellow buttons make it really clean and neat. So, it is really clean and simple.
21. Roomframes app - Managing app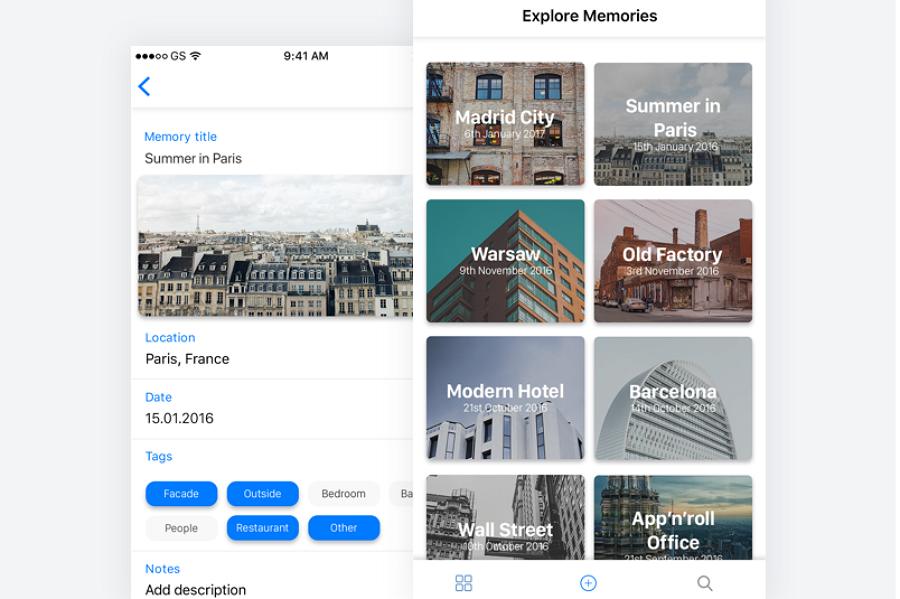 Designer: Adrain Rudzik
About:
Roomframes app is an iOS app that can help people record and remember places that they have visited, especially the rooms where they have slept before and do not want to forget in the future. So, in this aspect, it is more likely to be a managing app.
Highlights:
It adopts several frame interfaces for users to add different places, hotels, workstations or new offices, etc. And every place is allowed to add further dates, photos, descriptions and more details so that it could help remember everything unforgettable. And its pure white background makes all added photos, tags, notes and descriptions more outstanding, which could be good for users to recall or share these memories with their friends or families.
22. iOS App Slide Car - Life app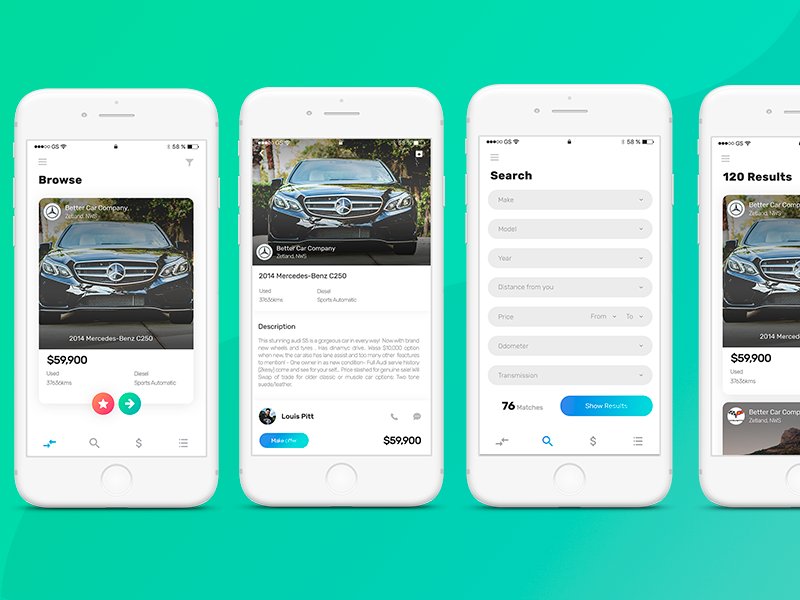 Designer: Melany Roa
About:
iOS App Slide Card is an iOS mobile application that can help users classify, search and do business with cars, and it is also a good tool for people to connect and socialize with different car lovers.
Highlights:
It is designed with pure backgrounds and let users focus on car information, like car photos, prices, descriptions and owner information, etc. Its Search interface also enables users to find their desired cars with simple clicks. So, it is simple, clean and useful.
23. Karoline - Shopping app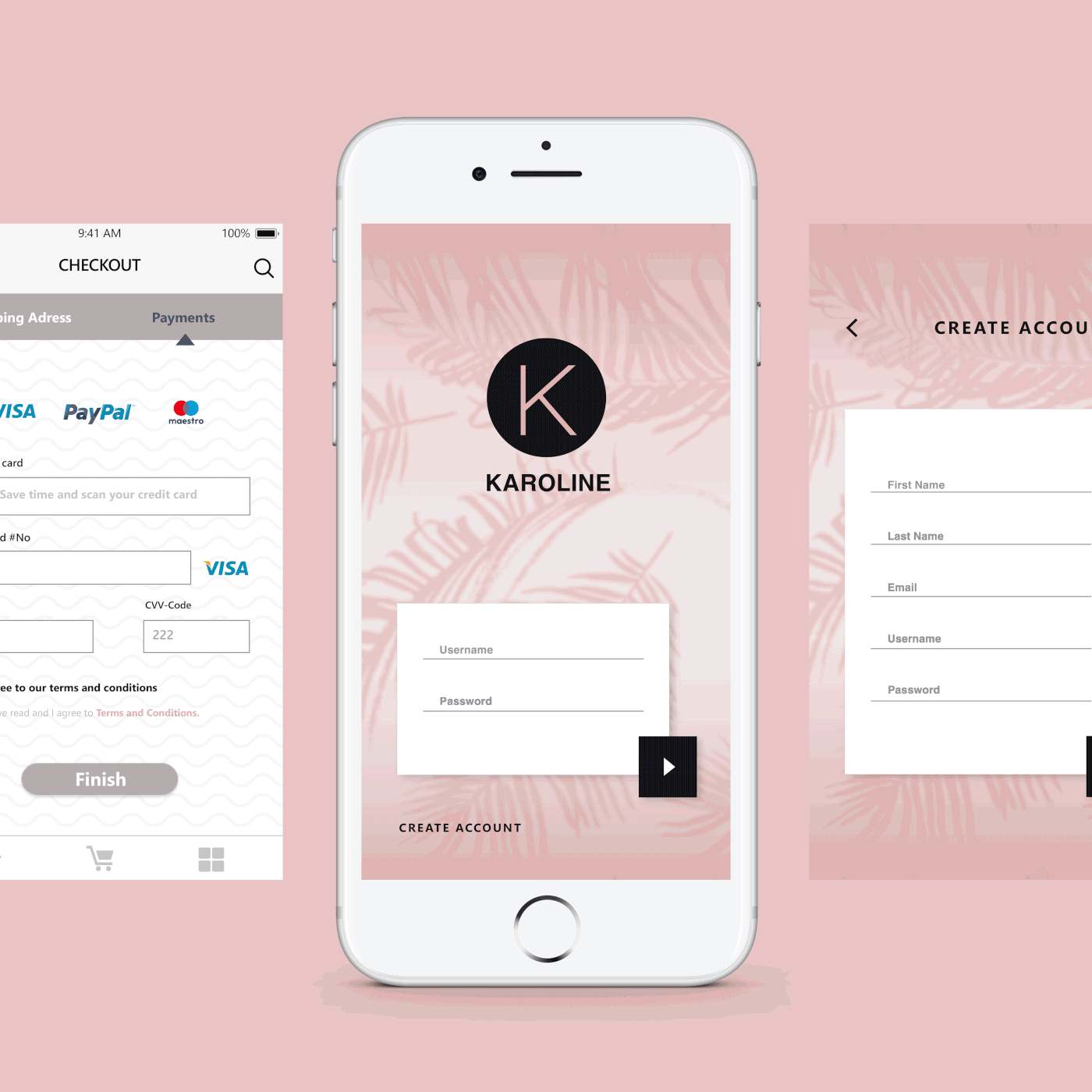 Designer: Varduhi Adami
About:
Karoline is a mobile shopping app that enables users, especially female users, to search and buy pants, jackets, dresses and more clothes as they wish.
Highlights:
Its pure pink background is really sweet and attractive for female users. And icons and buttons are also simple and easy for users to search for more details of different clothes based on their needs. Moreover, it offers a series of pages that almost include all details that a user may need while searching and buying clothes, like Home, My account, My orders, Shopping Cart, My Favorites, My invitations and Settings, etc. It is really useful when you really need to buy clothes online with your phone.
24. Space - Managing app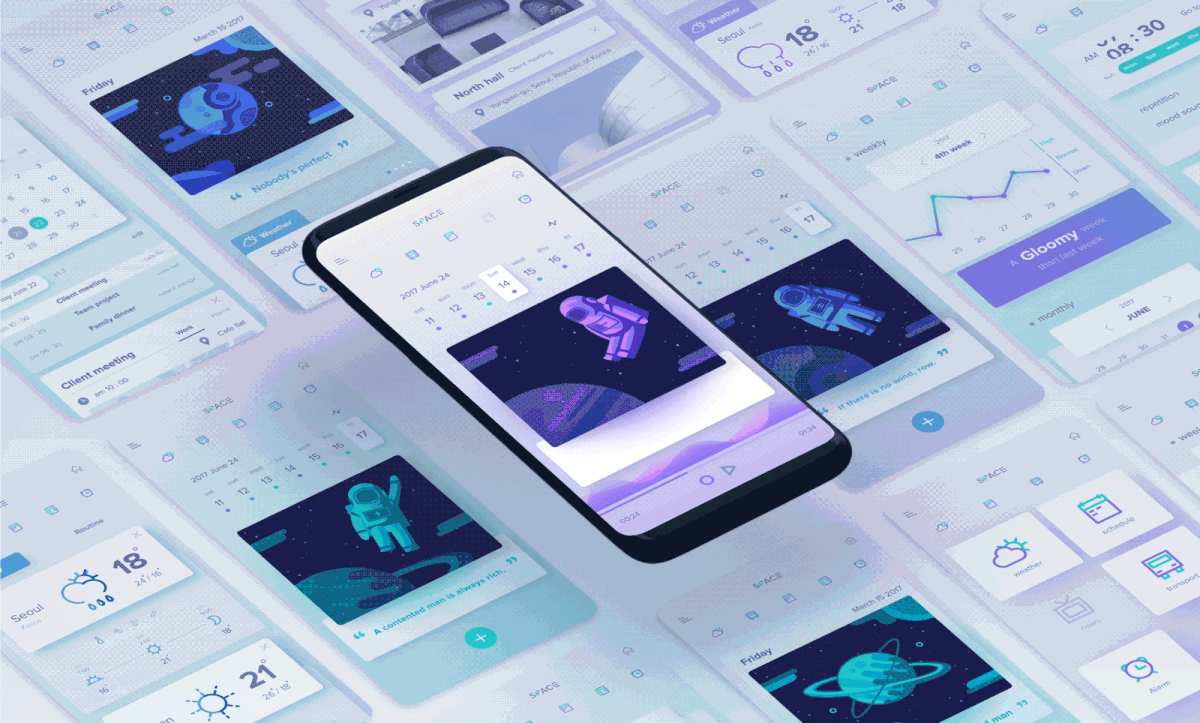 Designer: Doeun Shin
About:
Space is a mobile application that allows users to manage life more effectively. It features for providing useful information based on users' schedule, like traffic and weather information, in the morning, and offering theme and alarm sounds to suit different moods of users at night.
Highlights:
With an illustration style, it also features many vivid animated buttons, photos and options. Its blue color also lets users feel good and comfortable no matter whether they use it in the morning or at night. Moreover, it enables users to manage their lives with many functional interfaces, like Mood calender, Daily services, Today's Brief and Voice Diary, etc. So, it is sweet and appealing.
25. QuickBee - Advertising app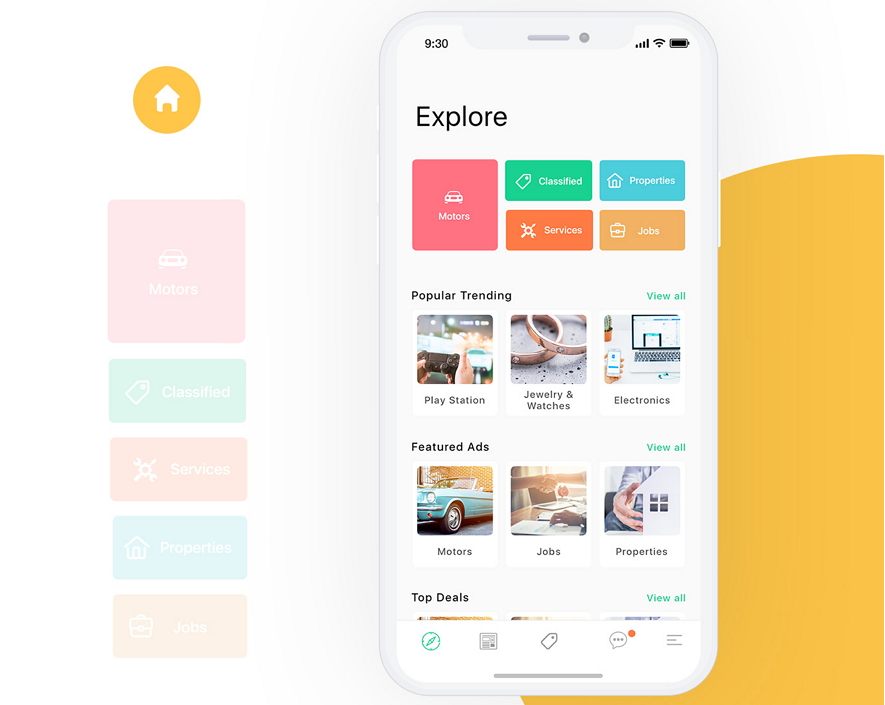 Designer: Monish Mohanan
About:
QuickBee is a classified advertising app that has offered life information for users in different categories, like cars, real estates, jobs, services, education and more categories. Users can easily sign up and create a profile there to search needed life information, check popular trending items and browse featured ads, etc.
Highlights:
It stands out for neat designs and awesome colors. Simple and colorful buttons show diversified categories clearly and clean frames present popular trending and featured ads orderly. Its vector icons are also good and easy to understand. And it mainly consists of some useful screens, such as Login Screen, Explore Screen, Category Listing Screen and Detail Screen, etc.
26. Wallet - Financial app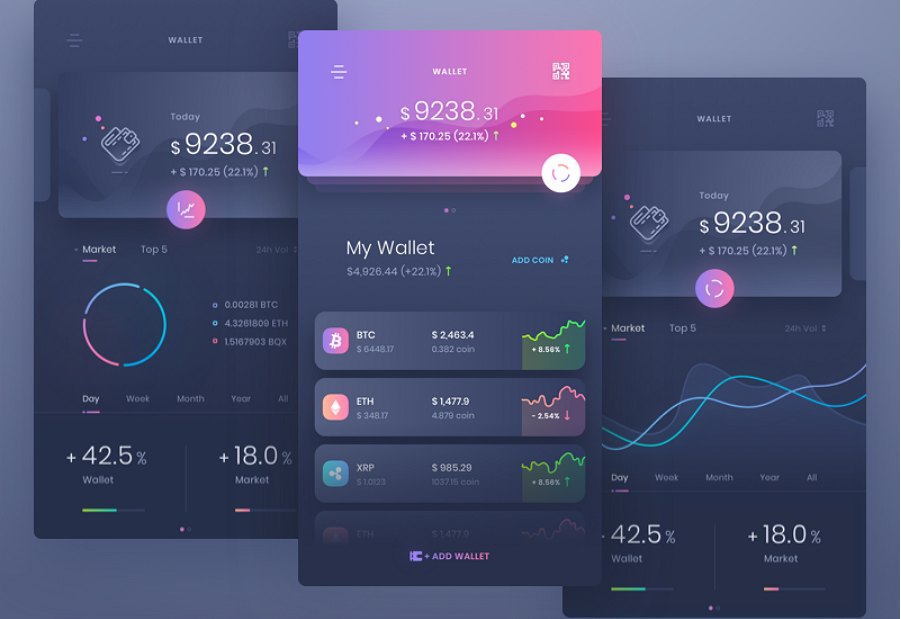 Designer: uixNinja
About:
Wallet is a financial app that allows users to manage their money.
Highlights:
Its beautiful color contrast and gradients are really distinctive. Simple icons and colorful geometries make all interfaces simple and impressive.
More mobile app design UI kits
27. Uber Eats UI Kits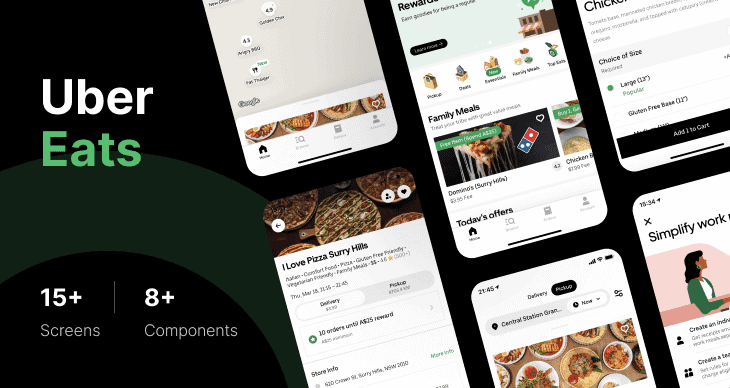 Designer: 大圣电竞软件
Price: Free
This Uber Eats UI kit is an online food delivery UI kit for both iOS and Android mobile app projects. This free app UI kit includes over 15 stylish screens and offers all the necessary components that you need to create a high-quality food and delivery app.
Users can easily save the UI kit directly to their account and further edit the super detail to create their own completely with drag-and-drop. The entire product design team can co-edit the same app interface, add lifelike interactions and animations to test out their ideas quickly.
28.Node iOS UI Kit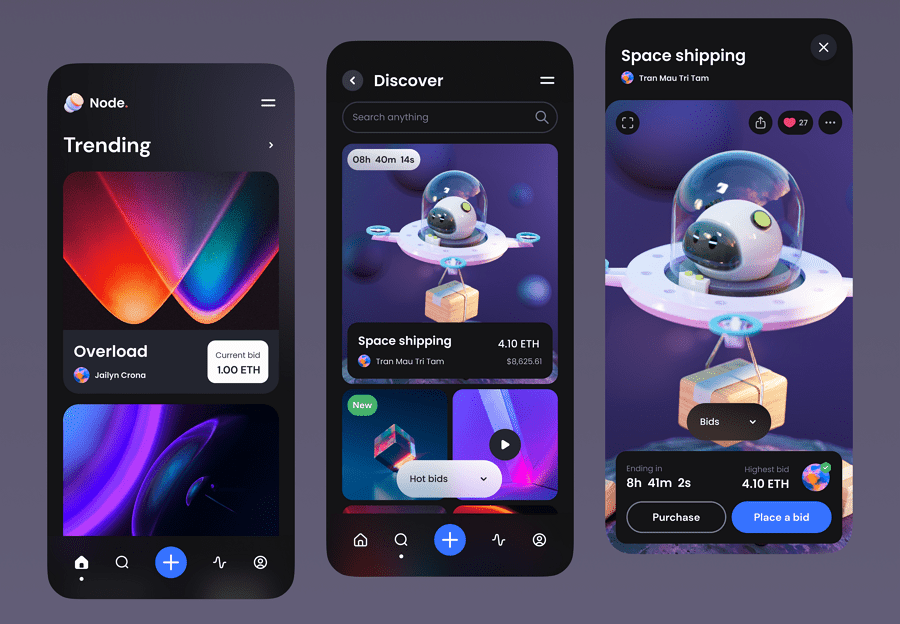 Designer: Tran Mau Tri Tam
Price: $68
Format: Sketch and Adobe XD
Node is an iOS UI kit that comes up with 126 stylish mobile screens in both light and dark modes, additionally, there are 3D illustrations and 1 Saas landing page. It contains hundreds of fully customizable components for you to use to create your own mobile app with ease.
29.Fitness Mobile App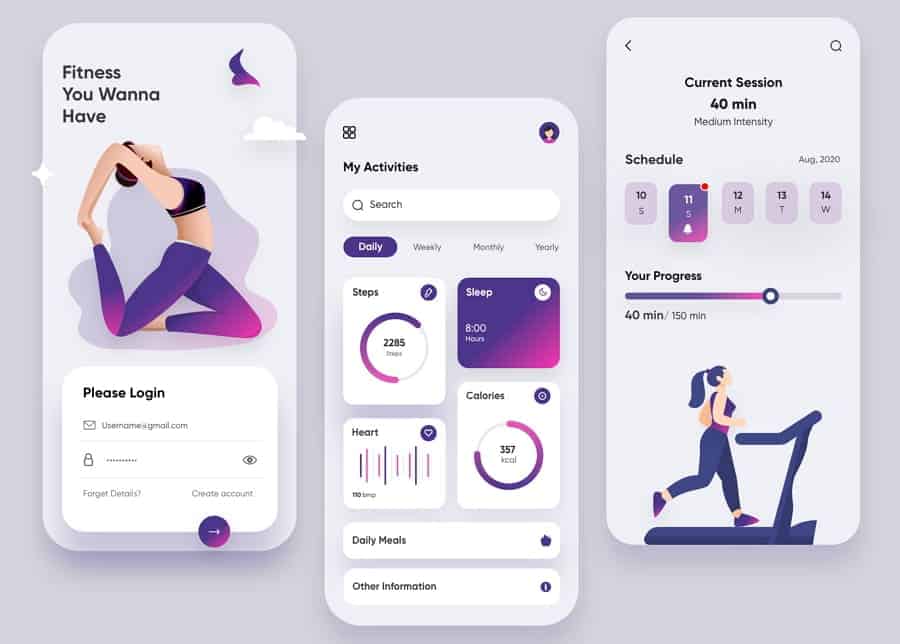 Designer: Hira Riaz
Price: $18
Format: Adobe XD
This UI kit uses illustrations for a fitness mobile app that includes amazing screens, hero images, and fully editable objects. It has over 110K views on Dribbble and would be a good template for designers, especially beginners, to build simple and minimal fitness, exercise or gym apps quickly.
30.Booking App UI Kit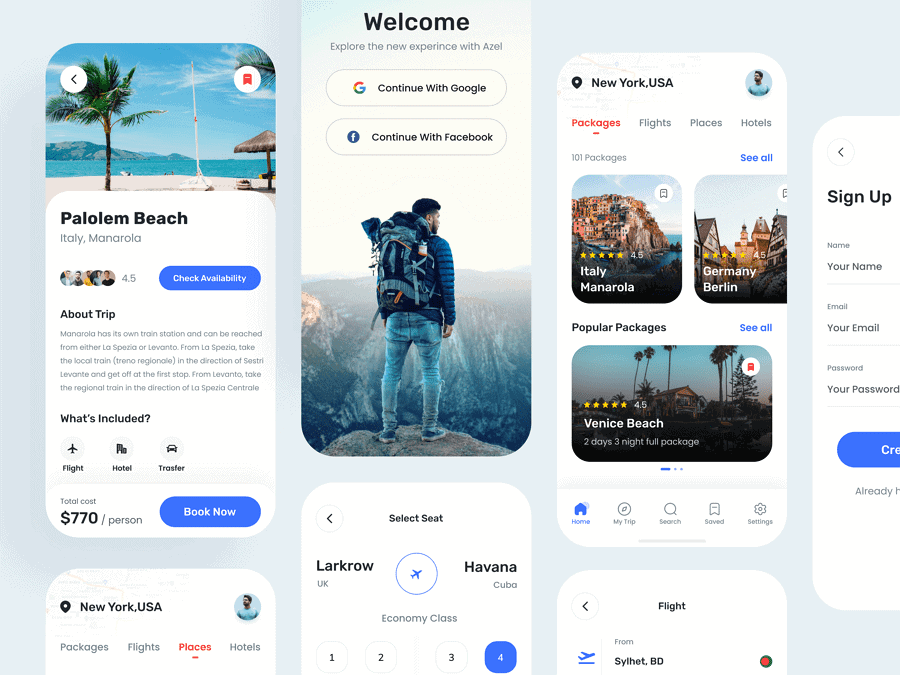 Designer: Adom
Price: $64
Format: Sketch and Adobe XD
This booking app UI kit is a perfect tool for designers to create their own travel booking, hotel booking, flight booking and experience booking app. It contains 100 minimal screens and comes with fully customizable and responsive objects. The dark and white color themes also help you create user-friendly interfaces.
Wrap Up
Well, those are all the 30 latest mobile app interface designs we have searched and collected for you. As 2021 draws to a close, they can not only help you find new inspirations for the next mobile UI design project but also could be nice materials for you to catch and predict possible trends in the coming 2022. Hope you will make full use of them to improve your UI/UX design works.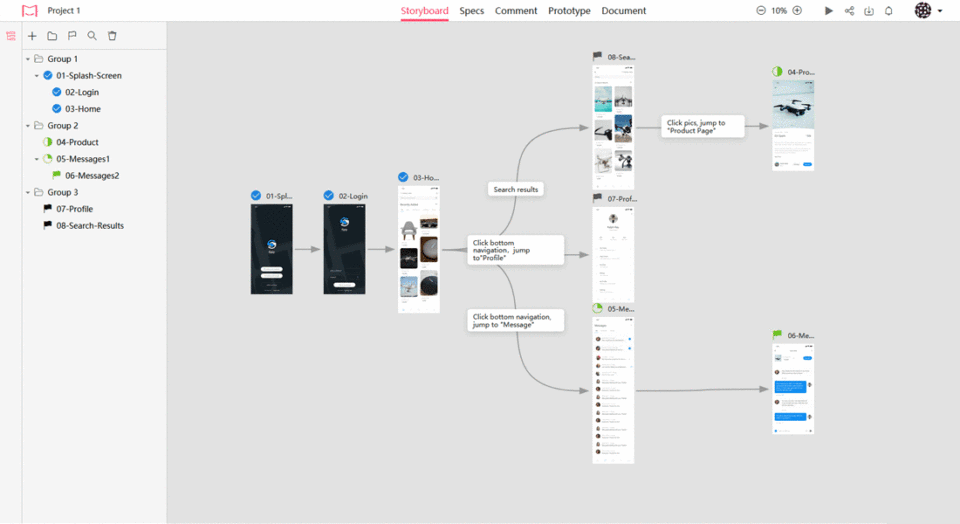 From my point of view, except for creative UI/UX design ideas, good collaboration between designers and developers is also vital in helping you create a stunning mobile application. Fortunately, 大圣电竞软件 Cloud, a fresh online design collaboration & handoff tool for designers, developers and product managers, has been launched recently and is a good choice for you to try.
大圣电竞软件 Cloud can help generate specs and assets automatically after you import mobile app designs with one click, gather feedback and suggestions from other designers, web engineers and MPs, create interactive and animated prototypes to share and test easily, and make the entire design collaboration easier online.
Overall, while designing a mobile app, never forget to use a handy design collaboration and handoff tool, such as 大圣电竞软件 Cloud , for better design implementation and handoff online.
Wrap Up
Well, those are all 10 latest mobile app interface designs we have searched and collected for you. As 2017 draws to close, they can not only help you find new inspirations for the next mobile UI design project but also could be nice materials for you to catch and predict possible trends in the coming 2018. Hope you will make full use of them to improve your UI/UX design works.